The muscle satellite cell at 50: the formative years
Received: 8 December 2010
Accepted: 17 August 2011
Published: 17 August 2011
Abstract
In February 1961, Alexander Mauro described a cell 'wedged' between the plasma membrane of the muscle fibre and the surrounding basement membrane. He postulated that it could be a dormant myoblast, poised to repair muscle when needed. In the same month, Bernard Katz also reported a cell in a similar location on muscle spindles, suggesting that it was associated with development and growth of intrafusal muscle fibres. Both Mauro and Katz used the term 'satellite cell' in relation to their discoveries. Today, the muscle satellite cell is widely accepted as the resident stem cell of skeletal muscle, supplying myoblasts for growth, homeostasis and repair.
Since 2011 marks both the 50th anniversary of the discovery of the satellite cell, and the launch of Skeletal Muscle, it seems an opportune moment to summarise the seminal events in the history of research into muscle regeneration. We start with the 19th-century pioneers who showed that muscle had a regenerative capacity, through to the descriptions from the mid-20th century of the underlying cellular mechanisms. The journey of the satellite cell from electron microscope curio, to its gradual acceptance as a bona fide myoblast precursor, is then charted: work that provided the foundations for our understanding of the role of the satellite cell. Finally, the rapid progress in the age of molecular biology is briefly discussed, and some ongoing debates on satellite cell function highlighted.
Keywords
Satellite Cell
Muscle Regeneration
Tritiated Thymidine
Muscle Satellite Cell
Mononucleated Cell
Introduction
Skeletal muscle accounts for a sizable proportion of body weight, being just over 30% for a typical women, and around 38% for men (e.g. [1]). The basic unit of skeletal muscle is the myofibre: a syncytial cell packed with myofibrils, containing the sarcomeres that generate force by contraction. In vertebrates, each myofibre is controlled by many (usually hundreds) of myonuclei, which in mammals are considered post mitotic. During postnatal growth, new myonuclei are supplied by muscle satellite cells: resident stem cells located on the surface of a myofibre. Satellite cells then become mitotically quiescent in mature muscle, but remain able to be recruited to provide myoblasts for muscle hypertrophy and repair.
That muscle is capable of regeneration was first shown in the 1860s [
2
–
5
], but almost a century elapsed before the satellite cell was discovered. Here, we first document the seminal findings of the 19th and early 20th century pioneers that described muscle regeneration, through to the work of the 1950s and 1960s that revealed the underlying cellular mechanisms. During this latter period, the satellite cell materialised and we chronicle its journey from electron microscope curio to its general acknowledgement as a muscle precursor cell, providing myoblasts for postnatal muscle growth and regeneration (Figure
1
). We end by briefly highlighting how this fundamental work provided the basis for rapid progress in the age of molecular biology, and discuss some ongoing debates in satellite cell function.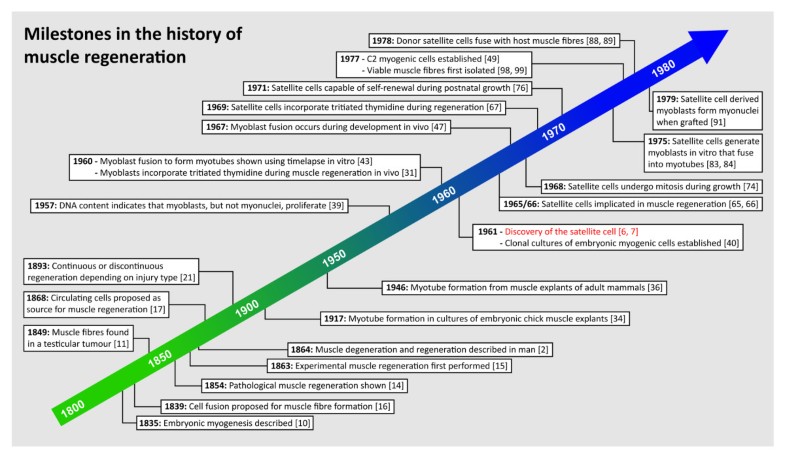 Conclusions
Known knowns, known unknowns and unknown unknowns
So what do we know after 50 years of research into muscle satellite cells? Essentially, that they are resident muscle stem cells, responsible for supplying myoblasts for skeletal muscle growth, homeostasis, hypertrophy and repair. Of the many known unknowns, little is established about how satellite cells are maintained in a quiescent state [145, 146], while how they are then activated to enter the cell cycle is beginning to be unravelled, with signalling pathways including Notch/Delta clearly implicated [147]. However, a relatively new mode of satellite cell control is gene regulation via miRNA, and evidence is beginning to accumulate of their role [148, 149]. Similarly, the sublaminal satellite cell niche is not well characterised, but recent work on modelling the niche in culture is already providing useful insight [150, 151].
There is much debate about whether the satellite cell population is heterogeneous [152]. Satellite cell properties vary depending on their muscle of origin, but even within the same muscle, can be subdivided using genetically modified mice [125, 153] and are functionally heterogeneous ex vivo[124, 154, 155]. Different regenerative potentials have been ascribed to satellite cell subpopulations isolated by FACS using various antigen combinations [153, 156]. However, it is often difficult to confirm the provenance of these subpopulations in vivo, as some of the antibodies used for FACS are not effective for immunocytochemistry. If these functional differences are related to heterogeneity within the sublaminal niche, is the satellite cell population composed of lineage-based satellite 'stem' cells and myogenic precursors [153]? Or do satellite cells evolve into a continuum of cells with more, or fewer, stem cell characteristics, perhaps because some cells have undergone fewer divisions [157]? However, resolution of this awaits prospective markers able to identify satellite 'stem' cells, as has happened recently for the gastrointestinal tract [158]. Whatever the nature of the satellite cell pool, we still need to better understand what dictates which progeny ultimately undergoes self-renewal and which differentiates? Recent publications implicate Wnt signalling, with cell fate being related to the plane of cell division with respect to the myofibre [159].
By definition, unknown unknowns are rather hard to predict, but often prove to be the most exciting. A recent example is the revision of the role of Pax7 in adult muscle, long thought essential for satellite cell function [111]. Inducible Cre-mediated inactivation of the Pax7 locus was used to demonstrate that Pax7 was necessary for satellite cell function during postnatal muscle growth in mouse. Surprisingly however, when the Pax7 locus was inactivated in satellite cells in adult, muscle regeneration was unaffected [160]. These observations have prompted reappraisal of a hitherto central tenet of the transcriptional control of the satellite cell.
Arguably the pre-eminent unknown unknown in regenerative myogenesis of the modern era was the existence of the satellite cell, whose discovery by Mauro and Katz in 1961, gradually created a paradigm shift in our understanding of muscle biology. Widely regarded as the major source of myonuclei for skeletal muscle growth and repair, the description of other muscle precursor cells had cast some doubt on the importance of the satellite cell. However, several upcoming studies detailing the lack of significant muscle regeneration after genetic ablation of the satellite cell pool further confirm their indispensable role in repairing skeletal muscle (e.g. [161]). Hopefully the next 50 years of research into satellite cells will prove as enthralling as the first 50 have!
Declarations
Acknowledgements
We wish to thank Stephen Hauschka, Zipora Yablonka-Reuveni, Miranda Grounds and Terence Partridge for their valuable and constructive comments on the manuscript. We also acknowledge the many colleagues who supplied and/or translated manuscripts for us: particularly Stefano Schiaffino, Thomas Braun, Bodo Christ, Pura Munoz, Eusebio Perdiguero and Mathieu Fortier.
Authors' Affiliations
(1)
Randall Division of Cell and Molecular Biophysics, King's College London, London, UK
Copyright
© Scharner and Zammit; licensee BioMed Central Ltd. 2011
This article is published under license to BioMed Central Ltd. This is an Open Access article distributed under the terms of the Creative Commons Attribution License (http://creativecommons.org/licenses/by/2.0), which permits unrestricted use, distribution, and reproduction in any medium, provided the original work is properly cited.