Muscular dystrophy in the mdx mouse is a severe myopathy compounded by hypotrophy, hypertrophy and hyperplasia
Received: 8 February 2015
Accepted: 16 April 2015
Published: 1 May 2015
Abstract
Background
Preclinical testing of potential therapies for Duchenne muscular dystrophy (DMD) is conducted predominantly of the mdx mouse. But lack of a detailed quantitative description of the pathology of this animal limits our ability to evaluate the effectiveness of putative therapies or their relevance to DMD.
Methods
Accordingly, we have measured the main cellular components of muscle growth and regeneration over the period of postnatal growth and early pathology in mdx and wild-type (WT) mice; phalloidin binding is used as a measure of fibre size, myonuclear counts and BrdU labelling as records of myogenic activity.
Results
We confirm a two-phase postnatal growth pattern in WT muscle: first, increase in myonuclear number over weeks 1 to 3, then expansion of myonuclear domain. Mdx muscle growth lags behind that of WT prior to overt signs of pathology. Fibres are smaller, with fewer myonuclei and smaller myonuclear domains. Moreover, satellite cells are more readily detached from mdx than WT muscle fibres. At 3 weeks, mdx muscles enter a phase of florid myonecrosis, accompanied by concurrent regeneration of an intensity that results in complete replacement of pre-existing muscle over the succeeding 3 to 4 weeks.
Both WT and mdx muscles attain maximum size by 12 to 14 weeks, mdx muscle fibres being up to 50% larger than those of WT as they become increasingly branched. Mdx muscle fibres also become hypernucleated, containing twice as many myonuclei per sarcoplasmic volume, as those of WT, the excess corresponding to the number of centrally placed myonuclei.
Conclusions
The best-known consequence of lack of dystrophin that is common to DMD and the mdx mouse is the conspicuous necrosis and regeneration of muscle fibres. We present protocols for measuring this in terms both of loss of muscle nuclei previously labelled with BrdU and of the intensity of myonuclear labelling with BrdU administered during the regeneration period. Both measurements can be used to assess the efficacy of putative antinecrotic agents. We also show that lack of dystrophin is associated with a number of previously unsuspected abnormalities of muscle fibre structure and function that do not appear to be directly associated with myonecrosis.
Keywords
Muscular dystrophyMuscle regenerationHypertrophyHypotrophyHyperplasia
Background
From shortly after its discovery in the early 1980s [1], the mdx mouse fell into disrepute and was widely dismissed as a model of human muscular dystrophy [2-5]; that its muscles are hypertrophic and of similar absolute strength to those of the C57Bl/10 wild-type (WT) mouse did not fit well with the muscle-wasting phenotype of Duchenne muscular dystrophy (DMD) boys. Its eventual revelation as a genetic homologue of DMD [6] subsequently established it as the most-used preclinical model of DMD but with the common proviso that the mdx pathology is much less severe. This comparison is based mainly on the progression of muscle fibrosis and, importantly, of clinical incapacity expressed as a proportion of the lifespans of man and mouse, a debatable basis for comparison of pathological severity between two such different species [7]. Persistence of such opinions is abetted by a lack of well-authenticated quantitative criteria in either species by which such comparisons might validly be made. While current technologies permit us to gather detailed quantitative information on gene expression and proteomic profiles in DMD and mdx dystrophies [8-10], at the level of cellular pathology, we lack equivalent data to permit accurate translation of molecular events into pathological processes.
To realize the full potential utility and to accommodate the limitations of the mdx mouse as a preclinical model requires a deeper understanding of its pathology by comparison with that of DMD in man. A full quantitative description of the processes involved in generating pathological changes over the course of disease, especially of the dynamics of those processes, could provide a basis for determining the role of each pathological feature of the mdx dystrophy in the development of the disease. Such information is required to fully evaluate the applicability, or otherwise, to DMD of data emerging from this animal model and to better interpret results from tests of potentially therapeutic preclinical interventions.
To understand those features that are common to the two species and those that differ between them, we need, at a minimum, to develop quantitative methods in the mouse for measuring and comparing the benefits to pathology and function of any putative therapeutic treatment. At present, we have only a hazy understanding of the relationship between the pathological targets that we are aiming to modify with a given treatment and the outcome criteria that are commonly assessed in such investigations. For example, variation in fibre size, the frequency of centrally placed myonuclei or the deposition of fibrous connective tissue are all recognized as consequent to dystrophic pathological processes in the mdx mouse, but their relationships to the primary pathology unleashed by the lack of dystrophin are indirect and obscure. Likewise, although the molecular mechanisms by which putative treatments are thought to modify these processes are often identified, the cellular mechanisms that translate these molecular changes into structural and functional improvements remain largely unresolved. As a first approach to gaining a better understanding of these various relationships, we have made a detailed examination of the mdx mouse muscle during its phase of postnatal growth, driven by conspicuous satellite cell activity, and of its transition, at the end of this period, into a florid myopathic stage that is accompanied by even more intense satellite cell activity.
We have assessed these events by three main methods. First, we have monitored the accumulation of myonuclei within muscle fibres as a measure of the contribution of myogenic cell fusion to fibre growth. Second, the content of fibrous actin has been measured as an index of the amount of contractile material within each muscle fibre. Third, we have followed the incorporation of the thymidine analogue BrdU into muscle fibre nuclei as a measure of myogenic activity and loss of these labelled nuclei as an indicator of myonuclear turnover in the period of growth and at the onset of myopathology in mdx mice.
We demonstrate a number of previously unrecognized consequences of absence of dystrophin from skeletal muscle. In particular, muscle growth in mdx mice is markedly compromised prior to the onset of overt myonecrosis; growth of mdx fibres lags behind that of WT fibres, with fewer myonuclei that have smaller sarcoplasmic domains. This hypotrophy is accompanied by feeble attachment of satellite cells to the mdx fibres but appears to originate pre- or peri-natally. At 3 weeks, WT muscle growth involving satellite cell activity ceases, further enlargement being accomplished by expansion of the myonuclear domain. In contrast, mdx mice at this age enter a sudden myonecrotic phase and myogenic activity becomes yet more conspicuous, coping with both the hypertrophic growth and the repair of extensively destroyed muscle fibres. At maturity, mdx muscles and their component myofibres are larger than those of WT and are hypernuclear, with more than double the number of myonuclei per fibre. Thus, although hypertrophic in terms of absolute bulk, muscles of the mdx mouse can be considered hypotrophic in terms of myonuclear domain, which falls to half the WT value. We propose that the mdx mouse differs greatly from DMD in having no problem of repair and regeneration. This brings into question its value as a model of this aspect of dystrophinopathy. However, the basic similarity of myonecrotic events commends it as a model for testing therapies aimed at modifying this aspect of DMD.
Methods
Animals and BrdU and EdU administration
C57Bl10/ScSn mice and mdx C57Bl10/ScSn mice were managed and handled according to protocols approved ethically and scientifically by the local animal care and use committee guidelines of the Children's National Medical Center, Washington, DC. For some experiments, mice were injected subcutaneously with BrdU (30 mg/kg) morning and evening for the first postnatal week. Administration of BrdU to post-weaning mice was by inclusion in their drinking water (0.8 mg/ml) for a period of 1 week. In some experiments, pre-weaning mice were injected twice daily with EdU, which is more easily visualized but too expensive to be administered in the drinking water and is more toxic than BrdU in longer term administration protocols.
Mice aged 1, 2, 3, 4, 6, 14 and 28 weeks were euthanased by CO2 flooding followed by cervical dislocation, and tibialis anterior (TA), gastrocnemius and extensor digitorum longus (EDL) muscles were dissected from both hindlimbs.
Isolation of myofibres
Reagents were from Invitrogen (Thermo Fisher Scientific, Grand Island, NY, USA) unless otherwise stated. Single myofibres were isolated as described previously [11]. Briefly, right limb EDL muscles were carefully dissected immediately after euthanasia of the mouse and incubated in 0.2% Collagenase Type 1 (Sigma-Aldrich, St. Louis, MO, USA) in DMEM for 1 to 2 h, depending on muscle size and age, to digest the connective tissue. Single myofibres were liberated by gentle trituration with fire-smoothed wide-mouthed Pasteur pipettes in DMEM in dishes pre-coated with horse serum. Liberated myofibres were washed by transfer through four such dishes. TA and gastrocnemius muscles of mice that had been given BrdU were frozen on corks in isopentane held at freezing point in liquid nitrogen for subsequent cryostat sectioning.
Immunostaining
EDL muscles from 16-day-old mdx and WT mice (n = 4) were frozen in liquid-nitrogen-cooled isopentane. Transverse sections cut at −20°C were incubated for 1 h at RT in permeabilization/blocking buffer (TBS-T, 0.5% Triton X-100, 2% BSA 2% (w:v), 20% goat serum) and then overnight at RT in primary antibodies diluted in permeabilization and blocking buffer. Anti-laminin-2 (clone 4H8-2, 1:400, Axxora, Lausen, Switzerland) was used to define fibre margins and LAMP1 (dilution 1:300, H-228, Santa Cruz Biotechnology, Santa Cruz, CA, USA) to visualize lysosomal structures. Slides were then washed three times in TBS-T 10 min at RT prior to incubation in secondary antibodies (goat anti-rat Alexa Fluor 488, 1:400, Invitrogen; donkey anti-rabbit Alexa Fluor 595, 1:400, Invitrogen) diluted in permeabilization and blocking buffer. After three 10-min washes in TBS-T at RT, the slides were counter-stained with DAPI, 1 μg/ml for 2 min, rinsed two times and mounted with Gel Mount (Sigma). Four images of 1-μm-thick optical sections were gathered from each section, using Zeiss LSM 510 Meta NLO on an Axiovert 200 M microscope (Carl Zeiss, Jena, Germany). Images were acquired using AxioVision software (Carl Zeiss).
BrdU staining with biotin-conjugated anti-BrdU (Life Technologies B35138) 1:100 overnight, followed by Alexa 488 streptavidin (Invitrogen S32354) 1:500, was performed according to the supplier's instructions. Laminin co-staining was performed by overnight incubation at 4°C with anti-laminin antibody (Sigma L9393) 1:400, followed by Marina Blue goat-anti-rabbit IgG (Invitrogen M10992) 1:500 for 1 h at RT to reveal the primary antibody localization.
EdU-treated mice were euthanased on postnatal day 18 and EDL muscles were harvested. Single myofibres were isolated as described above. EdU detection was performed on fixed myofibres using the Click-iT Assay kit (Life Technologies, Carlsbad, CA, USA) according to the manufacturer's instructions. DAPI was used to visualize nuclei.
Isolation, immunostaining and counting of Pax7-positive cells
Myofibres were isolated as described above, fixed with 4% paraformaldehyde and immunostained with anti-Pax7 antibody (Developmental Studies Hybridoma Bank, Iowa City, IA, USA) as previously described [12].
Fixation and phalloidin staining of myofibres
Batches of myofibres harvested at each age were transferred to a 2-ml Eppendorf vial containing 1.5 ml 3.65% formaldehyde and fixed at 37°C for 15 min. The vial was centrifuged at 700 g for 10 min, to loosely pellet the myofibres. The formaldehyde supernatant was carefully removed, and 1 ml of 30% sucrose was added to the pellet which was resuspended by a 3-s vortex and stored at −80°C pending analysis.
For staining, the vials were thawed at room temperature and the contents deposited into a Petri dish together with the products of a rinse with TBS-Tween (Tween 0.1% in TBS). Using a stereo microscope and watchmaker's forceps, myofibres were carefully transferred into a 2-ml Eppendorf vial containing permeabilization and blocking buffer (0.5% Triton, 0.1% Tween, 2% BSA and 20% goat serum) in which they were incubated overnight at 4°C. After centrifugation for 10 min at 15,000 g, the buffer was removed and the fibres were rinsed three times with alternate centrifugations in 1 ml of rinse solution (0.1% Tween in TBS).
The myofibres were then re-suspended in Alexa Fluor 594-conjugated phalloidin at a dilution of 1:40 for 20 min at room temperature, as previously described [11], rinsed three times and left in the rinse solution overnight at 4°C to maximize elution of unbound phalloidin. After centrifugation for 10 min at 15,000 g, myofibres were re-suspended in a 0.75 μg/ml solution of DAPI and immediately centrifuged for a further 10 min at 15,000 g, then rinsed once more. The contents of the vial were deposited into a Petri dish and transferred gently, using a stereo microscope and forceps, and mounted onto a microscope slide.
Imaging and software analysis
Single fibre imaging and quantification of F-actin was performed as previously described [11]. Briefly, stained myofibres were imaged on a Nikon Eclipse E500 epifluorescence microscope with Spot Camera (Nikon Corporation, Chiyoda-ku, Japan). Overlapping segments of each myofibre were recorded under a Nikon PlanApo × 10 objective. Between two to six images were required, depending on the length of the myofibre. Exposure time was set to fall within a previously validated linear response range of signal intensities [11] and was kept constant across all samples within a comparison. Images of each myofibre were stitched together using the CS2 version 'Interactive Layout' mode of the Photomerge feature of Adobe Photoshop in Adobe Photoshop Elements.
For measurement of volume, confocal microscopy z-stacks were acquired on a Zeiss LSM 510 Meta NLO system with an Axiovert 200 M microscope. Depths ranged from 35.3 to 61.8 μm, depending on myofibre thickness. Slices of 2.2 μm thick composed of 512 × 512 pixels were collected with × 20 objective. Between two to six non-adjacent z-stacks were collected per myofibre, depending on myofibre length. DAPI-stained nuclei were counted for each z-stack by eye from three-dimensional representation using AxioVision software (Zeiss) and added together. Volume data of each segment are expressed per myonucleus within that segment.
Integrated density of signal from fluorophore-conjugated phalloidin for each slice was calculated in ImageJ and added together to give total signal per z-stack. Signals per z-stack were added for each myofibre and divided by the number of nuclei to give signal per nucleus.
Measurement of growth of muscle fibres
To follow growth of muscle fibres from WT and mdx mice, we recorded the two main contributory factors: the numbers of nuclei within the muscle fibre (myonuclei) and the amount of filamentous actin (F-actin). Since most fibrous actin within the fibre is associated with the myofibrillar structures, this is an index of the amount of contractile apparatus. These methods were developed and analysed for consistency and reproducibility in a previous study [11]. EDL muscles were dissected from WT and mdx mice aged from 1 to 28 weeks of age (three animals per time point) and dissociated in type 1 collagenase as described above. Batches of fibres obtained from mdx and WT mice were thawed in age-matched pairs, subjected to the staining regime, and mounted for microscopic examination.
Validation of fluorescent phalloidin signal as an index of volume
To determine the relationship between fibrous actin content and sarcoplasmic volume, we compared the phalloidin signal from segments of individual muscle fibres extracted from EDL muscle fibres of 2-, 6- and 28-week
mdx
and WT mice with the calculated volumes of the same segments from z-stacks of confocal images as described previously [
11
]. These two measures were normalized to the number of myonuclei in these same segments and plotted against one another (Figure
1
). The strong correlation between these two parameters across the two strains and spanning the entire age range validates the use of the fluorescent phalloidin signal as a reliable index of sarcoplasmic volume within these bounds, irrespective of age or strain. Thus, we apply the term 'myonuclear domain' as a descriptor of both the amount of contractile material associated with each myonucleus as measured by the fluorescent phalloidin signal and the volume of sarcoplasm calculated from the regression relationship.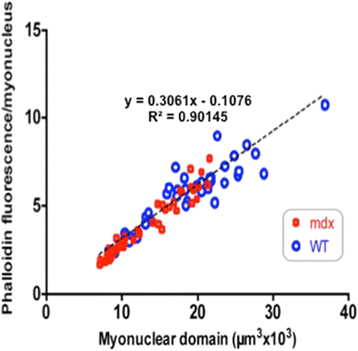 Statistics
For myofibres processed by the PhAct method on a standard fluorescent microscope, statistical tests for significant differences between WT and mdx myofibres in terms of nuclear counts (myonuclei, peripheral, centralized or Pax7-positive) and actin signal (per fibre or normalized to the number of myonuclei) were analysed within an ANOVA framework. Some parameters were transformed to achieve normal distributions (square-root transformation: Pax7-positive nuclei per total nuclei and actin signal; log transformation: actin signal per myonucleus, total nuclei and myonuclei), then two-way ANOVA was performed for each age. Factors included into the model were the murine strain and the experimental batch of the myofibres.
For myofibres imaged using confocal microscopy, for which volume per nucleus and actin per volume were measured, because of the non-normality of dependent variables, non-parametric tests were used to compare medians. For the analysis at each time point, the Wilcoxon rank-sum test was used to compare strains.
Discussion
It is of practical concern that, although the mdx mouse has been the animal model of first resort for preclinical testing of potential therapeutic ideas and agents for treatment of DMD, we lack a coherent pathological picture of it. The common assertion that the mdx dystrophy is milder than DMD remains unsupported by quantitative data in either species [7]. Here, we have gathered detailed quantitative information outlining the main features that distinguish the mdx mouse from the WT mouse during its postnatal growth and the transition to severe pathology. Although comparison with DMD is constrained by the scanty human data, we do identify several similarities and differences between mdx and WT that would invite further investigation in man as well as highlighting a number of features of dystrophinopathy that are not apparent from more casual observation of either species.
Of practical interest, we delineate a set of readily measurable criteria for use in assessment of the beneficial effects of putative therapeutic strategies. We also identify several features that make this animal less than ideal, sometimes misleading, as a model of DMD. Recognition of such issues is important if we are to avoid developing therapeutic strategies based on misconception.
Conclusions
Observations
1.

We have analysed the growth, loss and regeneration of skeletal muscle in the mdx mouse by comparison with the WT mouse.

2.

From birth up to the onset of the myopathy, mdx mouse muscle grows at the same rate as WT mouse muscle but lags behind it in absolute size, with fewer myonuclei and smaller myonuclear domains than WT and contain excess lysosomal structures.

3.

Satellite cells are less adherent to muscle fibres of the young pre-myopathic mdx mouse than those of the age-matched WT.

4.

After onset of the myopathy, mdx muscles become hypertrophic and hypernucleated but the myonuclear domain shrinks to half of the WT size.

5.

During the myopathic phase, mdx muscle fibres become increasingly branched and accumulate strings of myonuclei that are centrally positioned within the fibres.

6.

These central nuclei account entirely for supernumerary myonuclei in mdx; the number of peripheral nuclei per fibre remains constant.

7.

The number of satellite cells per fibre increases progressively in the mdx mouse, but the number per myonucleus remains constant and does not differ from that of the WT.

8.

We describe two BrdU labelling protocols to permit quantitative comparison of muscle turnover in the mdx mouse.
Interpretations
Our data show no compromise of regeneration in limb muscles of the mdx mouse. Neither satellite cell number nor proliferative capacity is a limiting factor in the maintenance of muscle size and structure in this animal. We suggest that attention to defects in regenerative mechanisms in the mdx dystrophy are, as in aging muscle [42], subject to too strong a focus. This distracts from those aspects of the mdx myopathy that do closely simulate DMD pathology, such as defects in myofibre stability, where translation of findings from mouse to man is more likely to be of immediate practical value. A more detailed comparison of the cellular and molecular events that are common to DMD and mdx pathologies, or peculiar to one or the other, should also prove rewarding in this respect [7,32].
Abbreviations
BrdU:

bromo-deoxy-uridine
DMD:

Duchenne muscular dystrophy
EdU:

5-ethynyl-2′-deoxyuridine
GRMD:

the golden retriever muscular dystrophy canine model of Duchenne muscular dystrophy
mdx :

a mouse on C57Bl/10ScSn background that bears a nonsense mutation in exon 23 of the dystrophin gene and thus a genetic homologue of Duchenne muscular dystrophy
WT:

the non-dystrophic C57Bl/10ScSn mouse strain
Declarations
Acknowledgements
This work was supported by the Muscular Dystrophy Association USA grants MDA 200552 and MDA 115049. We also received support from the US Department of Defense (W81XWH-05-0334), National Institutes of Health (R01 NS029525, U54 HD053177, R24 HD050846 and P50AR060836) and Children's National Medical Center Board of Visitors. KN is also supported by NIH K26OD011171, NIH P50AR060836, the MDA (translational grant), the US Department of Defense (W81XWH-05-1-0659, W81XWH-11-1-0782) and a pilot grant from Parent Project Muscular Dystrophy. TP was also supported by funding from the Foundation for the Eradication of Duchenne.
We thank Dr Jyoti Jaiswal for the advice on the measurement of phalloidin fluorescence.
Authors' Affiliations
(1)
Center for Genetic Medicine Research, Children's National Medical Center, Washington DC, USA
(2)
Myology Center of Research, Institut de Myologie Pitié-Salpétrière - Bâtiment Babinski, Paris Cedex 13, France
(3)
Center for Genetic Muscle Disorders, Kennedy Krieger Institute, Baltimore, USA
(4)
Department of Embryology, Carnegie Institution for Science, Baltimore, USA
Copyright
© Duddy et al.; licensee BioMed Central. 2015
This is an Open Access article distributed under the terms of the Creative Commons Attribution License (http://creativecommons.org/licenses/by/4.0), which permits unrestricted use, distribution, and reproduction in any medium, provided the original work is properly credited. The Creative Commons Public Domain Dedication waiver (http://creativecommons.org/publicdomain/zero/1.0/) applies to the data made available in this article, unless otherwise stated.