Erratum to: Voluntary resistance wheel exercise from mid-life prevents sarcopenia and increases markers of mitochondrial function and autophagy in muscles of old male and female C57BL/6J mice
Received: 4 January 2017
Accepted: 4 January 2017
Published: 15 February 2017
Following publication of the original article [
1
] it was brought to our attention that there was a problem with the merging of the lines in Figs.
6
and
7
. These figures show western blot images and each image used to have lines indicating separate groups. During production these lines merged into one single line and now the separate groups cannot be identified. The original article has since been corrected. Please see below for the corrected images: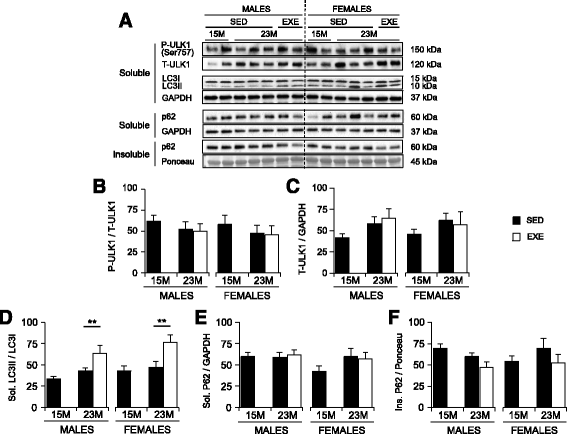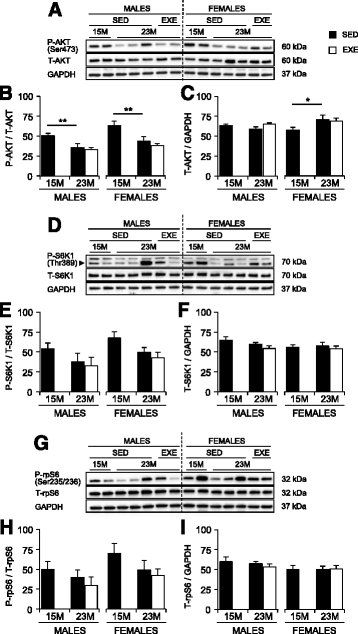 Open AccessThis article is distributed under the terms of the Creative Commons Attribution 4.0 International License (http://creativecommons.org/licenses/by/4.0/), which permits unrestricted use, distribution, and reproduction in any medium, provided you give appropriate credit to the original author(s) and the source, provide a link to the Creative Commons license, and indicate if changes were made. The Creative Commons Public Domain Dedication waiver (http://creativecommons.org/publicdomain/zero/1.0/) applies to the data made available in this article, unless otherwise stated.
(1)
School of Anatomy, Physiology and Human Biology, The University of Western Australia (UWA), 35 Stirling Highway, Crawley, WA, 6009, Australia
(2)
Centre for Cell Therapy and Regenerative Medicine, School of Medicine and Pharmacology, UWA and Harry Perkins Institute of Medical Research, Crawley, 6009, WA, Australia
(3)
School of Chemistry and Biochemistry, UWA, Crawley, 6009, WA, Australia
(4)
Developmental Biology Group, AgResearch Ltd, Hamilton, 3214, New Zealand
(5)
Department of Physiology, University of Otago, Dunedin, 9010, New Zealand
White, et al. Voluntary resistance wheel exercise from mid-life prevents sarcopenia and increases markers of mitochondrial function and autophagy in muscles of old male and female C57BL/6J mice. Skeletal Muscle. 2016;6:45.View ArticlePubMedPubMed CentralGoogle Scholar