T-tubule biogenesis and triad formation in skeletal muscle and implication in human diseases
Received: 2 March 2011
Accepted: 13 July 2011
Published: 13 July 2011
Abstract
In skeletal muscle, the excitation-contraction (EC) coupling machinery mediates the translation of the action potential transmitted by the nerve into intracellular calcium release and muscle contraction. EC coupling requires a highly specialized membranous structure, the triad, composed of a central T-tubule surrounded by two terminal cisternae from the sarcoplasmic reticulum. While several proteins located on these structures have been identified, mechanisms governing T-tubule biogenesis and triad formation remain largely unknown. Here, we provide a description of triad structure and plasticity and review the role of proteins that have been linked to T-tubule biogenesis and triad formation and/or maintenance specifically in skeletal muscle: caveolin 3, amphiphysin 2, dysferlin, mitsugumins, junctophilins, myotubularin, ryanodine receptor, and dihydhropyridine Receptor. The importance of these proteins in triad biogenesis and subsequently in muscle contraction is sustained by studies on animal models and by the direct implication of most of these proteins in human myopathies.
Keywords
Sarcoplasmic Reticulum
Familial Hypertrophic Cardiomyopathy
Terminal Cisterna
Centronuclear Myopathy
Myotubular Myopathy
Introduction
To trigger skeletal muscle contraction, the action potential generated by motor neurons is transmitted through motor nerves to muscle cells. The excitation-contraction (EC) coupling,
i.e
. signal transmission from the sarcolemma to the actin/myosin apparatus, is mediated by a second messenger, calcium ions. Indeed, muscle fibers contain large internal calcium stores with the ability to quickly release and retrieve calcium (Figure
1
, right panel). For a fast and fine-tuning of muscle contraction, these stores are maintained under the control of the action potential, which ensures calcium release simultaneously within the whole interior of the muscle fiber. As myofibers are 50-100 μm in diameter and several millimeters to centimeters long, a highly specialized structure named the triad is necessary to overcome spatial limits in using calcium as secondary messenger, and connect the sarcolemma with the calcium stores. The sarcolemma forms regular invaginations which insert between myofibrils, termed transverse tubules (T-tubules). In skeletal muscle, T-tubules tightly associate with the sarcoplasmic reticulum (SR), in a region called terminal cisternae/junctional SR. The close association of one T-tubule with two terminal cisternae on both sides of the tubule forms the triad (Figure
1
).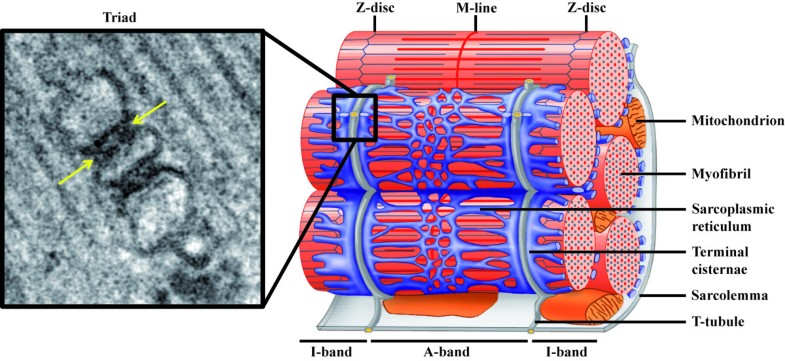 A large set of specialized proteins takes part in EC coupling and includes: i) the Dihydhropyridine Receptor (DHPR), a voltage gated calcium channel located on T-tubule membranes [1, 2], ii) the Ryanodine Receptor (RyR1), a calcium release channel that is localized on the junctional face of SR and appears as "feet" when observed by electron microscopy (Figure 1, left panel) [3], iii) calcium buffering proteins such as calsequestrin in the lumen of the SR [4], iv) calcium channel regulators such as calmodulin, FKBP12 and many others [5, 6], v) Sarco-Endoplasmic Reticulum Calcium ATPase pumps (SERCA), which is indirectly involved in EC coupling via its action in the rapid removal of the cytosolic calcium after fiber shortening to replenish the calcium stores [7]. Noteworthy, the physical coupling between RyR1 and DHPR occurs specifically in skeletal but not in cardiac muscles and allows the transmission of the signal within 2 ms in skeletal muscles compared to 100 ms in cardiac muscles [8]. In cardiac myofiber, RyR2-mediated calcium release is induced by extracellular calcium entry via DHPR in a mechanism called calcium-induced calcium release (CICR) [8]. Moreover, in fibers of small diameter, such as the body muscles of Amphioxus, peripheral couplings between SR and the plasmalemma have similar function to triads. In addition, all differentiating muscle fibers pass through a stage where T-tubules are not present and EC coupling is mediated by such peripheral couplings.
In this review, we will focus on the molecular mechanisms underlying T-tubules biogenesis and triad formation specifically in skeletal muscle. Triad defects linked to human monogenic diseases will also be highlighted.
T-tubule plasticity
The T-tubule membrane possesses a high plasticity which provides the stability required during muscle contraction, and facilitates repair upon damage. In addition to its principal function in EC coupling, the plasticity of T-tubules confers to this system non-related EC functions.
It has been reported that the treatment of isolated muscle fibers with glycerol efflux-influx or with other low molecular weight nonelectrolytes (such as sugars) physically affects T-tubules morphology. Such osmotic shock can convert the T-tubule network into many membrane-bound vacuoles, which can either remain interconnected by normal T-tubules, or become separated (Figure
2
) [
9
,
10
]. Surprisingly, this vacuolation which results in 5-15 fold increase in the relative volume of T-tubule system is reversed spontaneously [
11
,
12
]. Moreover, this observation is specific to transverse tubule membranes, as no other intracellular membrane systems appear to be involved [
12
], probably due to the fact that their lumen connects to the extracellular space.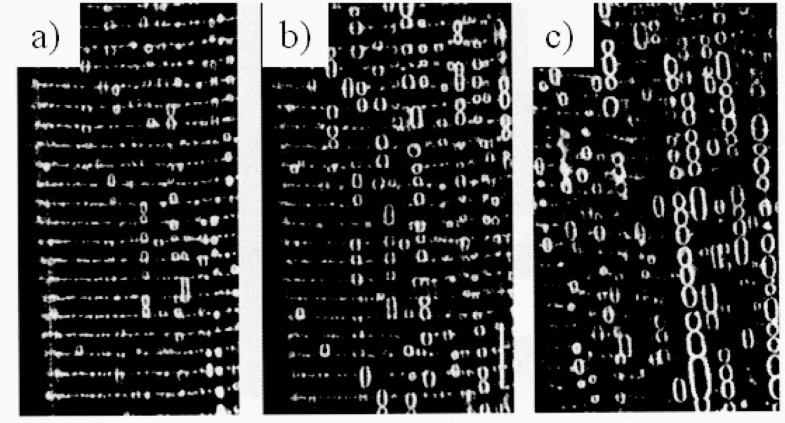 In addition to this artificial condition, this vacuolation phenomenon is observed upon muscle fatigue or diseases [10, 13]. Based on this plasticity and on the large membrane surface of the T-tubules network which corresponds to about 80% of the sarcolemma surface, several functions non-related to EC coupling are proposed for the T-tubules system [10, 13]. These include: i) water balance and regulation of cell volume, ii) recovery from muscle fatigue, iii) transport pathways including endocytosis, exocytosis and the penetration of foreign DNA. The molecular mechanisms involved in these processes are still to be investigated.
Morphological aspects of triad biogenesis
Sarcoplasmic reticulum
The SR represents the main calcium store in striated muscle. It is highly specialized to ensure the simultaneous release of intracellular calcium in the entire cytosol of the muscle cell. The first step of SR biogenesis starts by the formation of tubular endoplasmic reticulum (ER) (30-60 nm in diameter) adjacent to the myofibril [14]. Subsequently, these tubular branches of ER develop into reticular structures surrounding the myofibrils [15]. Finally, the newly formed SR engages couplings at the A-I interface with the T-tubule originating from the sarcolemma. The molecular determinants implicated in the functional and structural organization of the SR have been reviewed elsewhere [16].
The chronology of SR biogenesis was well investigated using electron microscopy (EM) during muscle differentiation in mouse [17]. These observations were also supported by studies employing chicken embryo [18]. In mouse, the SR is detected from as early as embryonic day 14 (E14) with punctate RyR clusters that are located in the periphery of the myofiber [17]. At this stage, the content of the feet (RyR) in the junctional SR is poor, and some SR elements without any feet are observed. At E16, RyR containing elements become abundant and start to be associated with the edges of A bands (A-I junctions) of the newly formed sarcomeres. This association results in a distinct banding pattern of a discrete SR network at the I-band with thin longitudinal connecting SR elements [17]. During the next days (E17 and E18), junctional SR acquires a predominant transverse distribution taking their final position by forming triad rows at each side of the Z-line (two SR sacs connecting one T-tubule in each triad) [17]. During the maturation of SR membranes, the frequency of feet increases, in particular, between E16 and E18, when all junctions become filled by feet. The width of the junctional gap is between 9 and 12 nm. The maturation of the RyR containing elements is accomplished at birth [17]. Elegant experiments using tagged SR proteins in differentiating myotubes showed that the SR organization was paralleled by a dynamic localization of longitudinal and junctional SR proteins [19].
Transverse tubule
T-tubules are invaginations of the plasma membrane, which are present exclusively in striated muscle. Their role is to maintain the SR calcium store under the tight control of membrane depolarization via the voltage sensor channel DHPR [2]. Morphological studies in chicken and mouse embryos have revealed that the T-tubules start their formation after the SR [17, 18]. In mouse embryos, the first defined tubules can be observed at E15. At this stage they take the aspect of short cylinders invaginating from the sarcolemma within the myotubes [17]. At E16, the newly formed T-tubules extend deeper within the myofiber, maintaining a connection with the surface by short transverse segments however they stay predominantly longitudinal. During the last days of gestation (E17, 18, 19), T-tubules progressively invade the entire fiber; the majority of them are longitudinal with some transverse connecting elements [17, 18]. The transverse orientation of T-tubules is achieved during the postnatal period. Final maturation of T-tubules is completed in mouse 3 weeks after birth [17, 20].
Molecular mechanisms involved in T-tubule biogenesis and triad formation and maintenance
Although the events characterizing T-tubule biogenesis and triad formation are morphologically defined, molecular mechanisms remain elusive. In the last 20 years, several proteins were proposed to be involved in these mechanisms, and mutations within most of the corresponding genes are associated to muscular disorders in human and/or in rodents. These proteins include caveolin 3 (CAV3), the skeletal muscle specific isoform of amphiphysin 2 (BIN1), dysferlin (DYSF), mitsugumins (MG), junctophilin (JPH1), and myotubularin (MTM1) (Table
1
). In this context, one should distinguish between mechanisms leading to T-tubule biogenesis and those involved in the proper assembling of triad components (i.e. one T-tubule element with two junctional SR cisternae). Based on previous reports, we classified CAV3, BIN1, DYSF in T-tubule biogenesis, and mitsugumins and junctophilin in triad formation, while the position of MTM1 in this classification is still unclear.
Table 1
Proteins implicated in triad organization, roles and associated human diseasesa
Phenotype in humans

Phenotype in rodents

Proteins

Skeletal muscle

Cardiac muscle

Skeletal muscle

Cardiac muscle

Membrane binding

Membrane events

Associated human diseases

CAV3

Yes

Yes

Yes

Yes

Cholesterol binding

Caveolae formation

LGMD-1C, RMD, FHC, LQTS

BIN1

Yes

Yes

n.r.

Yes

Phosphoinositide binding

Membrane tubulation

ARCNM

DYSF

Yes

Yes

Yes

Yes

Transmembrane/phospholipid binding

Membrane repair

Dysferlinopathies

MG29

n.r.

n.r.

Yes

No

Transmembrane binding

Triad structure

n.r.

JPH1

n.r.

n.r.

Yes

No

Phospholipid binding

Sarcolemma and SR junction formation

n.r.

MTM1

Yes

No

Yes

No

Phosphoinositide binding

Membrane transport

XLMTM (XLCNM)
Conclusion
Whether T-tubule origin is from an inward or outward movement of membranes has been debated for many decades. Some co-workers have suggested that caveolar invagination fuses with the internal membrane tubules and thus facilitates their connection to the surface [
34
]. However, increasing evidences support the hypothesis that T-tubules are formed by surface membrane invaginations starting from caveolae [
17
,
18
,
37
]. During myofiber maturation, the T-tubule network grows up to occupy the entire muscle fiber. It is likely that T-tubule proliferation happens by two complementary mechanisms: 1) membrane invagination and tubulation, and 2) membrane addition (Figure
4
). BIN1 is a promising candidate for the regulation of membrane tubulation at T-tubules. Invagination of T-tubules may be triggered at the site of caveolae formation on the sarcolemma. It is also possible that the growth of T-tubules is ensured by new membranes derived from endosomes and/or caveolae. CAV3, DYSF and MTM1 may play a major role in the formation and remodeling of growing T-tubules by regulating the incorporation of internal membranes and/or the turnover of existing tubular membranes. On the SR side, mitsugumin and junctophilin proteins would be important for the positioning of junctional SR to the proximity of transversal tubules. Membrane invagination and tubulation might be more active during early stages of T-tubule biogenesis (i.e. during muscle differentiation or after muscle injury), and membrane addition may be the main mechanism for T-tubule proliferation during postnatal muscle growth or maintenance.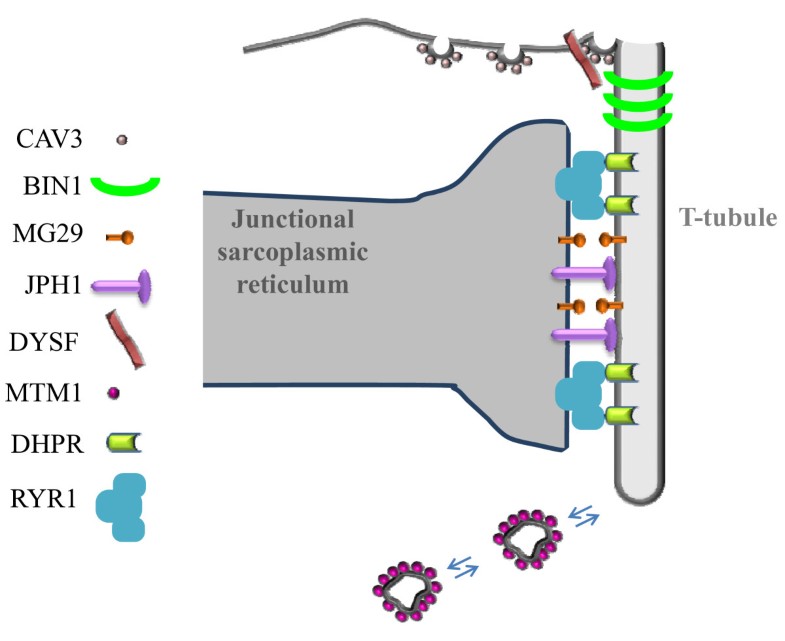 It is likely that other proteins may have important roles in these processes, like triadin [19, 101, 102], a protein located on the SR, or telethonin (TCAP)) a large protein implicated in sarcomere assembly and recently suggested to play a role in T-tubule biogenesis [103], although their direct impact in triad biogenesis in skeletal muscle remains to be confirmed. There is still a lot to learn about other potential proteins involved in triad biogenesis and to understand their biological role in muscle development.
Declarations
Acknowledgements
This work was supported by grants from the Institut National de la Santé et de la Recherche Médicale (INSERM), the Centre National de la Recherche Scientifique (CNRS), University of Strasbourg (UdS), Collège de France and the Association Française contre les Myopathies (AFM). L. Al-Qusairi was supported by a fellowship from Fondation pour la Recherche Médicale (FRM).
Authors' Affiliations
(1)
Department of Translational Medecine and Neurogenetics, IGBMC (Institut de Génétique et de Biologie Moléculaire et Cellulaire), Illkirch, France
(3)
CNRS, Illkirch, France
(4)
Université de Strasbourg, Illkirch, France
(5)
Collège de France chaire de génétique humaine, Illkirch, France
(6)
Département de Pharmacologie & Toxicologie, Université de Lausanne, Lausanne, Switzerland
Copyright
© Al-Qusairi and Laporte; licensee BioMed Central Ltd. 2011
This article is published under license to BioMed Central Ltd. This is an Open Access article distributed under the terms of the Creative Commons Attribution License (http://creativecommons.org/licenses/by/2.0), which permits unrestricted use, distribution, and reproduction in any medium, provided the original work is properly cited.