The myogenic kinome: protein kinases critical to mammalian skeletal myogenesis
Received: 13 June 2011
Accepted: 8 September 2011
Published: 8 September 2011
Abstract
Myogenesis is a complex and tightly regulated process, the end result of which is the formation of a multinucleated myofibre with contractile capability. Typically, this process is described as being regulated by a coordinated transcriptional hierarchy. However, like any cellular process, myogenesis is also controlled by members of the protein kinase family, which transmit and execute signals initiated by promyogenic stimuli. In this review, we describe the various kinases involved in mammalian skeletal myogenesis: which step of myogenesis a particular kinase regulates, how it is activated (if known) and what its downstream effects are. We present a scheme of protein kinase activity, similar to that which exists for the myogenic transcription factors, to better clarify the complex signalling that underlies muscle development.
Keywords
protein kinase
satellite cell
myoblast
myocyte
myotube
proliferation
differentiation
fusion
hypertrophy
myogenesis
Review
Embryonic myogenesis is a multistep process that begins with the commitment of an embryonic precursor to the myogenic lineage, followed by the proliferation of these committed myoblasts, the differentiation of myoblasts into postmitotic myocytes, and finally fusion of myocytes to form a multinucleated myotube. As the myotube matures, the syncytial cell becomes specialized for its particular function, with the bulk of the cytoplasm occupied by the contractile apparatus, and where the myotube/myofibre can further grow or hypertrophy in response to appropriate stimuli. Postnatal myogenesis is a similar process, except that fusion occurs primarily between myoblasts and preexisting myotubes, and where the role of the embryonic precursor is played by the quiescent satellite cell.
The process of myogenesis is controlled by several myogenic transcription factors that act as terminal effectors of signalling cascades and produce appropriate developmental stage-specific transcripts. The concerted roles that these transcription factors play is well known and well reviewed (see, for example, Sabourin and Rudnicki [1] and Le Grand and Rudnicki [2]). Paired-box protein 7 (Pax7) maintains a population of quiescent satellite cells and, together with myogenic factor 5 (Myf5), plays a role in the expansion of activated myoblasts. Myoblast determination protein (MyoD) is believed to determine the differentiation potential of an activated myoblast, and acts together with myogenin and myocyte enhancer factor 2 (MEF2) to drive differentiation. Finally, muscle-specific regulatory factor 4 (MRF4) is required for hypertrophy, although it may have other roles as well. Obviously, these transcription factors do not act alone, but exist as part of complex signalling cascades that control every stage of myogenesis. One of the major components of these cascades is the protein kinase, an enzyme that directs cell behaviour through the simple but reversible process of phosphorylation. Over 500 kinases exist in humans and mice [3, 4]; however, a myogenic scheme of protein kinase activity, similar to that which exists for the above-named transcription factors, has not previously been elaborated.
In this review, we summarize the involvement of the different protein kinases that participate in myogenesis. We discuss the stages they are required for, how they are activated during development/regeneration, and what the consequences of their activation are in terms of immediate phosphorylations and the downstream processes regulated. We discuss only developmental and regenerative skeletal myogenesis, in particular that of mammals, as cardiomyogenesis and the myogenesis of other vertebrate and invertebrate species contain unique features that require separate discussion. As dozens of kinases have been implicated in controlling some stage of myogenesis, this review covers the major players, those for which there is substantial evidence documenting their involvement (Figure
1
).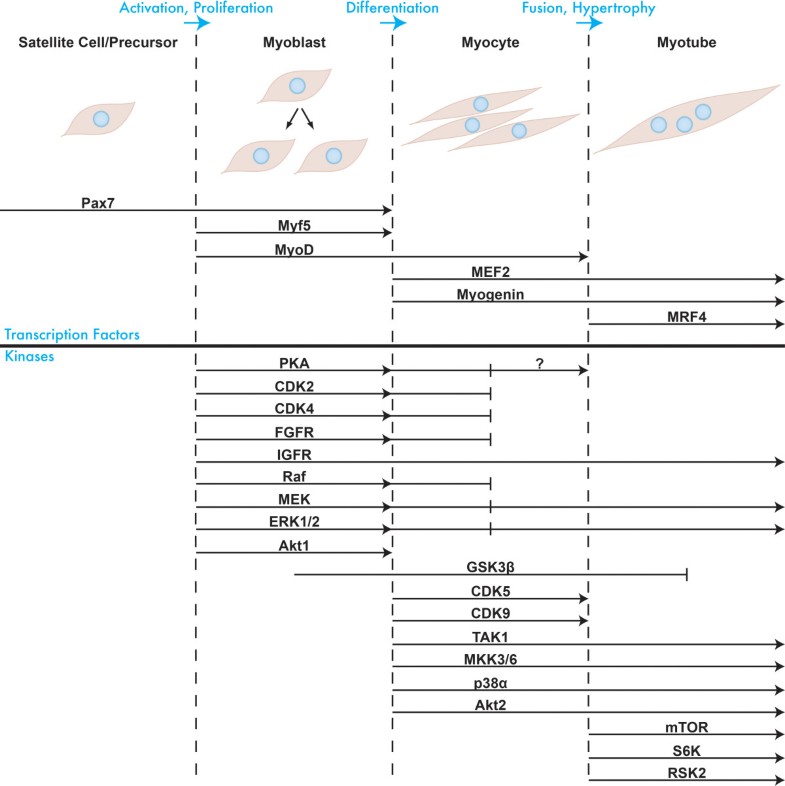 Conclusions
As we have reviewed here, the differential activation (and inhibition) of distinct protein kinases acts to control the formation of a mature myotube from a population of embryonic precursors or satellite cells. Although there is more to be discovered, a synthesis of the available information reveals a kinase hierarchy that coordinates myogenesis in a fashion analogous to the myogenic transcription factors. Initially, during development, and likely via analogous mechanisms during juvenile and adult myogenesis, the presence of specific Wnts induces PKA activity and the myogenic commitment of precursors to form a pool of dividing myoblasts. Growth factors, and likely other extrinsic components, then activate ERK1/2, Akt1 and cyclin D/CDK2, 4 and 6 to promote proliferation, which, along with PKA, act simultaneously to restrict differentiation. Intrinsic cell cycle-derived signals regulate the levels of cyclins A, B and E, which, together with their respective CDKs, promote cell cycle progression and inhibit differentiation. As the myoblast population expands to the threshold of available space, cell-cell contact can turn off ERK, and a decline in certain growth factors can further silence ERK and downregulate cyclin D/CDK2, 4 and 6 activity, to inhibit additional proliferation. With the silencing of ERK and cell cycle CDK activity, and proliferation lessening, cell-cell contact can promote differentiation through p38 and possibly Akt2 as well. Certain unknown cues may also relocalise PKA activity to remove its restraint on differentiation while allowing it to have a positive effect elsewhere in the cell. Similarly, undefined signals lead to an upregulation of p35 and cyclin T levels to induce the activity of CDK5 and 9, respectively. An increasing concentration of IGF, which is released during differentiation, stimulates Akt2 activity to drive differentiation and hypertrophy, and elevated IGF levels may also induce ERK2 activity at later time points to promote fusion. Finally, as differentiation progresses, p38 activity relocalises to the cytoplasm, where it promotes the mid to late stages of differentiation.
The protein kinase scheme we present herein demonstrates how a number of kinases are used by myogenic cells to transition from state to state, and the intricate signalling used to coordinate the proper development of muscle tissue. As complex as is the picture we offer, it is only partial. Not only does more need to be known about the kinases we have discussed, but there are many other kinases that have been implicated in controlling some aspect of myogenesis (Table
1
). As research on muscle development continues, it will be interesting to learn how these other kinases fit in with the picture presented here. It is important to state that much of what is known about kinases and myogenesis relates either to myoblast proliferation, differentiation or myotube hypertrophy, while very little is known about the kinase signalling that regulates satellite cell quiescence and activation, as well as myocyte fusion. While Pax7 is a well-established marker and regulator of satellite cells, almost nothing is known about the protein kinases that regulate satellite cell quiescence or maintenance. With respect to fusion, not only is there limited information about the kinases that control this process, but little is known about it in general, which is surprising, considering its obvious importance to the most unique feature of muscle tissue: the multinucleated cell. Although fusion and hypertrophy are the end stage of our description of myogenesis, further stages could be added, including precursor migration, sarcomere formation and neuromuscular junction development. The prospect of a comprehensive review on myogenic signalling is an almost overwhelming one, due to the number of different cell states, processes and network complexity involved, but we hope to have begun clarifying it.
Table 1
Other protein kinases implicated in myogenesis
Stagea

Kinase

Full name

Mechanismb

References

Satellite cell activation

c-Metc

N-methyl-N'-nitro-N-nitrosoguanidine (MNNG) human osteosarcoma (HOS) transforming oncogene cellular homologue

?

Proliferation and/or inhibit differentiation

JAK1

Janus/just another kinase 1

Phosphorylation and activation of STAT1

[216]

p38γ

p38γ mitogen-activated protein kinase

Phosphorylation and repression of MyoD activity

[217]

ROCK1

Rho-associated kinase 1

Blocks activation of the Akt differentiation pathway

Differentiation

c-Abl

Abelson murine leukaemia viral

oncogene cellular homologue

Activation of p38

CaMK1/4

Calcium/calmodulin-dependent protein kinases 1 and 4

Phosphorylates HDAC5, thereby releasing repression of MEF2

DYRK1B

Dual-specificity tyrosine phosphorylation-regulated kinase 1B

Phosphorylates HDAC5 and HDAC9, thereby releasing repression of MEF2

MAPK7d

Mitogen-activated protein kinase 7

Phosphorylation and activation of MEF2C

JAK2

Janus/just another kinase 2

Phosphorylation and activation of STAT2 and STAT3

PKCζ

Protein kinase Cζ

Activation of CDK5

[53]

PKD2

Protein kinase D2

Activation of MEF2D and repression of Pax3

[232]

Fusion

cGK1

Cyclic GMP-dependent protein kinase 1

Phosphorylation and inactivation of FoxO1

[233]

FAK

Focal adhesion kinase

Fusogen expression

PKCθ

Protein kinase Cθ

Activation of FAK

[234]

Hypertrophy

ROCK2

Rho-associated kinase 2

Activation of ERK2 and S6K

[236]
Abbreviations
Akt:

v-akt murine thymoma viral oncogene cellular homologue, a.k.a. protein kinase B (PKB), a.k.a. the related to the A and C kinases (RAC-PK)
APPL1:

adapter protein containing PH domain, PTB domain and leucine zipper motif 1
Ash2l:

Ash2-like methyltransferase
BAF60:

BRG1-associated factor 60
Cdc42:

cell division control protein 42
CDK:

cyclin-dependent kinase
Cdo:

cell adhesion molecule-related/downregulated by oncogenes
CIP/KIP:

c yclin-dependent kinase-i nteracting p rotein/k inase-i nhibitory p rotein
CKI:

CDK inhibitor
CREB:

cAMP response element-binding protein
ERK:

extracellular signal-regulated kinase, a.k.a. microtubule-associated protein 2 kinase (MAP2K)
EZH2:

enhancer of zeste homologue 2
FGF:

fibroblast growth factor
FGFR:

fibroblast growth factor receptor
FoxO1:

forkhead box protein O1
GFR:

growth factor receptor
GRB2:

growth factor receptor-bound protein 2
GRIP-1:

glucocorticoid receptor-interacting protein 1
GSK3β:

glycogen synthase kinase 3β
HDAC:

histone deacetylase
HGF:

hepatocyte growth factor
HuR:

human antigen R
IGF:

insulin-like growth factor
IGFR:

insulin-like growth factor receptor
INK4:

in hibitor of cyclin-dependent k inase 4
IRS:

insulin-receptor substrate
KSRP:

KH type-splicing regulatory protein
LIF:

leukaemia-inhibitory factor
MAFbx:

muscle atrophy F box
MAPK:

mitogen-activated protein kinase
MAP3K:

mitogen-activated protein kinase kinase kinase
MEF2:

myocyte enhancer factor 2
MEK:

dual-specificity MAP or ERK kinase
MKK3/6:

mitogen-activate protein kinase kinase 3/6
MRF4:

muscle-specific regulatory factor 4
mTOR:

mammalian target of rapamycin
MuRF1:

muscle RING finger 1
Myf5:

myogenic factor 5
MyoD:

myoblast determination protein
NFAT3:

nuclear factor of activated T cell 3
p38:

p38 mitogen-activated protein kinase
p65/RelA:

v-rel reticuloendotheliosis viral oncogene cellular homologue A
Pax7:

paired-box protein 7
PDGF:

platelet-derived growth factor
PDK1:

phosphoinositide-dependent kinase
PH:

pleckstrin homology
PHB2:

prohibitin 2
PI3K:

phosphatidylinositol 3-kinase
PI(3,4)P2:

phosphatidylinositol (3,4)-bisphosphate
PI(3,4,5)P3:

phosphatidylinositol (3,4,5)-trisphosphate
PI(4)P:

phosphatidylinositol 4-phosphate
PI(4,5)P2:

phosphatidylinositol (4,5)-bisphosphate
Pitx2:

pituitary homeobox 2
PKA:

protein kinase A, a.k.a. cAMP-dependent protein kinase
PRC2:

polycomb repressive complex 2
Rb:

retinoblastoma protein
RSK2:

90-kDa ribosomal S6 kinase 2
S6K:

ribosomal protein S6 kinase 1
SH2:

Src homology 2
SHH:

Sonic hedgehog
SOS:

son of sevenless
STAT:

signal transducer and activator of transcription
SWI-SNF:

switch/sucrose nonfermentable
TAK1:

transforming growth factor β-activated kinase 1
TCF/LEF:

T-cell factor/lymphoid enhancer-binding factor
TGF:

transforming growth factor
Wnt:

wingless/int
YY1:

yin and yang 1.
Declarations
Acknowledgements
We thank Dr Lyndsay Murray for critical reading of the manuscript. JDRK is supported by a Vanier Canada Graduate Scholarship from the Canadian Institutes of Health Research. RK is a recipient of a University Health Research Chair from the University of Ottawa (Ottawa, ON, Canada).
Authors' Affiliations
(1)
Regenerative Medicine Program, Ottawa Hospital Research Institute, Ottawa, Canada
(2)
Department of Cellular and Molecular Medicine, University of Ottawa, Ottawa, Canada
(3)
Department of Medicine, University of Ottawa, Ottawa, Canada
Copyright
© Knight and Kothary; licensee BioMed Central Ltd. 2011
This article is published under license to BioMed Central Ltd. This is an Open Access article distributed under the terms of the Creative Commons Attribution License (http://creativecommons.org/licenses/by/2.0), which permits unrestricted use, distribution, and reproduction in any medium, provided the original work is properly cited.