Skeletal muscle laminin and MDC1A: pathogenesis and treatment strategies
Received: 6 December 2010
Accepted: 1 March 2011
Published: 1 March 2011
Abstract
Laminin-211 is a cell-adhesion molecule that is strongly expressed in the basement membrane of skeletal muscle. By binding to the cell surface receptors dystroglycan and integrin α7β1, laminin-211 is believed to protect the muscle fiber from damage under the constant stress of contractions, and to influence signal transmission events. The importance of laminin-211 in skeletal muscle is evident from merosin-deficient congenital muscular dystrophy type 1A (MDC1A), in which absence of the α2 chain of laminin-211 leads to skeletal muscle dysfunction. MDC1A is the commonest form of congenital muscular dystrophy in the European population. Severe hypotonia, progressive muscle weakness and wasting, joint contractures and consequent impeded motion characterize this incurable disorder, which causes great difficulty in daily life and often leads to premature death. Mice with laminin α2 chain deficiency have analogous phenotypes, and are reliable models for studies of disease mechanisms and potential therapeutic approaches. In this review, we introduce laminin-211 and describe its structure, expression pattern in developing and adult muscle and its receptor interactions. We will also discuss the molecular pathogenesis of MDC1A and advances toward the development of treatment.
Keywords
Basement Membrane
Laminin
Muscular Dystrophy
Duchenne Muscular Dystrophy
Congenital Muscular Dystrophy
Introduction
The basement membrane is a thin scaffold of specific extracellular protein networks associated with various cell types, including muscle fibers. This specialized framework of extracellular matrix (ECM) provides important functional cues to cells. Laminins comprise a family of glycoproteins that are major components of all basement membranes [
1
]. Occurrence of a laminin molecule in hydra, one of the oldest multicellular organisms, indicates that laminins existed already 600 million years ago [
2
]. Laminins are large (400-900 kDa) heterotrimeric molecules composed of one α, one β and one γ subunit in a cruciform or T-shaped appearance. To date, five α, three β and three γ chains have been characterized. They represent the products of distinct genes that evolved by duplication and recombination of ancestral α, β and γ genes, hence they share sequence similarity. Currently, the trimers are named according to the composition of the α, β and γ chains and more than 15 different laminin isoforms, with various arrangements of laminin subunits, have been identified [
3
–
5
]. The first laminin isoform, laminin-111, was discovered more than 30 years ago in the Engelbreth-Holm-Swarm tumor [
6
]. Subsequently, laminin-211 (composed of α2, β1 and γ1 chains) (Figure
1
) was isolated from placenta and was originally called merosin [
7
]. It is now well established that laminin-211 is the main laminin isoform in skeletal muscle [
8
,
9
], and identification of laminin α2 chain mutations in a severe form of congenital muscular dystrophy (merosin-deficient congenital muscular dystrophy; MDC1A) showed the importance of laminin-211 for normal muscle function [
10
].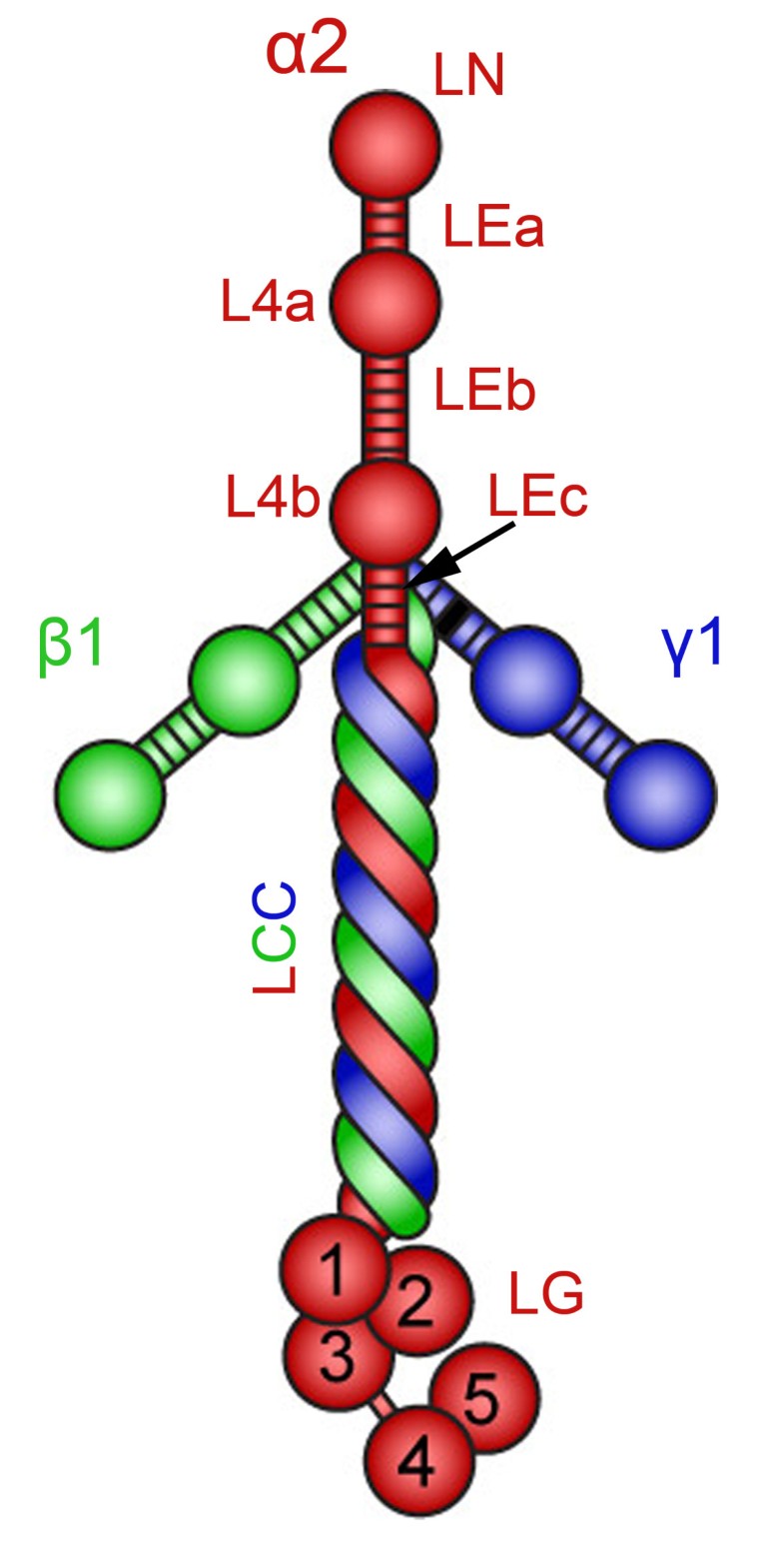 Conclusion
A great deal is known about the structure and function of laminin-211, and advances concerning the development of future therapies have been made for murine laminin α2 chain-deficient muscular dystrophy. Absence of the laminin α2 chain does not only affect skeletal muscle but also several non-muscle tissues. Analysis of these organs has been hampered by the relatively early death of the animals. It would therefore be informative to analyze the non-muscle organs in animals that have been rescued from the muscle defects or to generate mice with a tissue-specific disruption of the laminin α2 chain. Furthermore, the targeted genetic elimination of individual laminin domains (in particular the LG domains) would be valuable to understand their role in vivo. Finally, elucidation of laminin α2 chain-induced signal transduction pathways is an important task. Such studies would be helpful to further clarify the details of laminin α2 chain function to design future treatment for MDC1A.
Authors' information
KIG is a post-doctoral student at the Department of Experimental Medical Science, University of Lund, with a PhD in cell and molecular biology, specializing in preclinical studies of laminins and muscle disease. MD is a professor in muscle biology at the Department of Experimental Medical Science, University of Lund, with a PhD in animal physiology, specializing in preclinical studies of laminins and muscle disease.
Abbreviations
CBP:

cAMP response element binding protein (CREB) binding protein.
Declarations
Acknowledgements
This work was supported by Muscular Dystrophy Association. We are very grateful to Professor Volker Straub and the patient and family for their permission to use the photographs.
Authors' Affiliations
(1)
Department of Experimental Medical Science, Muscle Biology Unit, Lund University, Lund, Sweden
Copyright
© Gawlik and Durbeej; licensee BioMed Central Ltd. 2011
This article is published under license to BioMed Central Ltd. This is an Open Access article distributed under the terms of the Creative Commons Attribution License (http://creativecommons.org/licenses/by/2.0), which permits unrestricted use, distribution, and reproduction in any medium, provided the original work is properly cited.