X-linked myotubular myopathy in Rottweiler dogs is caused by a missense mutation in Exon 11 of the MTM1 gene
Received: 2 October 2014
Accepted: 9 December 2014
Published: 27 January 2015
Abstract
Background
Congenital and inherited myopathies in dogs are faithful models of human muscle diseases and are being recognized with increasing frequency. In fact, canine models of dystrophin deficient muscular dystrophy and X-linked myotubular myopathy are of tremendous value in the translation of new and promising therapies for the treatment of these diseases. We have recently identified a family of Australian Rottweilers in which male puppies were clinically affected with severe muscle weakness and atrophy that resulted in early euthanasia or death. X-linked myotubular myopathy was suspected based on the early and severe clinical presentation and histopathological changes within muscle biopsies. The aim of this study was to determine the genetic basis for myopathy in these dogs and compare and contrast the clinical presentation, histopathology, ultrastructure, and mutation in this family of Rottweiler dogs with the previously described myotubular myopathy in Labrador retrievers.
Results
Histopathology, histochemistry, and ultrastructural examination of muscle biopsies from affected Rottweiler puppies were consistent with an X-linked myotubular myopathy. An unusual finding that differed from the previously reported Labradors and similar human cases was the presence of excessive autophagy and prominent autophagic vacuoles. Molecular investigations confirmed a missense mutation in exon 11 of MTM1 that was predicted to result in a non-functional phosphatase activity. Although the clinical presentations and histopathology were similar, the MTM1 p.(Q384P) mutation is different from the p.(N155K) mutation in exon 7 affecting Labrador retrievers with X-linked myotubular myopathy.
Conclusions
Here we describe a second pathogenic mutation in MTM1 causing X-linked myotubular myopathy in dogs. Our findings suggest a variety of MTM1 mutations in dogs as seen in human patients. The number of MTM1 mutations resulting in similar severe and progressive clinical myopathy and histopathological changes are likely to increase as canine myopathies are further characterized.
Keywords
Congenital myopathyMyotubularinCanine myopathyAnimal model
Background
The centronuclear myopathies (CNMs) are a group of pathologically defined disorders that characteristically have a high proportion of small myofibers with centrally placed nuclei [1-3]. Classical centronuclear myopathies in humans have been associated with dominant mutations in the large GTPase DNM2 gene [4] while recessive cases may be due to mutations of amphiphysin 2, encoded by BIN1 [5], and of the ryanodine receptor (RyR1) gene, RYR1 [6]. An important, well-defined sub-group of CNMs is X-linked myotubular myopathy (XLMTM) associated with mutations in the MTM1 gene [7]. The protein product, myotubularin, is a ubiquitously expressed 603 amino acid phosphoinositide phosphatase that is essential in a wide variety of cellular signaling pathways governing diverse cellular functions including apoptosis and vesicle trafficking [8]. In skeletal muscle, myotubularin is localized at the terminal cisternae of the sarcoplasmic reticulum (SR) where its function is critical for regulating the lipid composition of membranes at the triads [9]. Abnormal membrane tubulation in myotubularin-deficient muscle leads to altered T-tubule and triad morphology and defective excitation contraction coupling, which is thought to play a major role in the initial pathophysiological events leading to weakness [10,11]. Clinical onset of XLMTM is at or near birth with males born with severe generalized hypotonia and weakness with respiratory insufficiency [12]. Affected infants are typically areflexic and hypotonic with little or no anti-gravity movements. The condition is not dystrophic as myofibers remain largely intact and serum creatine kinase (CK) activities are within the reference range or only mildly elevated.
In veterinary medicine, the first mutation associated with classical CNM was identified in young Labrador retrievers. A widely distributed exonic SINE insertion in the PTPLA gene segregated with autosomal recessive CNM in these dogs [13]. Mutations in the PTPLA gene have not been reported to date in human cases of CNM, however, mutation in the BIN1 exon 11 acceptor splice site was recently shown to be the cause of a rapidly progressive and fatal centronuclear myopathy in both a consanguineous human family and in young Great Dane dogs with a progressive CNM [14]. While specific mutations have not yet been identified, CNM has also been reported in a family of young Manchester Terriers (G.D. Shelton, unpublished observations), in a young Border Collie [15], and in an Arabian foal [16].
In 2008, a form of CNM resembling XLMTM was described in a family of Labrador Retrievers from Canada [17]. Molecular investigation confirmed that these dogs indeed did have an MTM1 mutation and represented a faithful model of human XLMTM [18]. Male puppies from two kindreds were presented for evaluation of progressive weakness and muscle atrophy beginning in the first few months of life. Pathological changes in muscle biopsies were consistent with a myotubular myopathy and a missense mutation, p.(N155K), was identified in exon 7 of canine MTM1. Here we describe, compare, and contrast the clinical presentation, histopathology, muscle ultrastructure, and a second independent mutation of MTM1 in a family of Rottweiler dogs from Australia.
Methods
Animals
All dogs reported in this communication were privately owned pets receiving clinical veterinary care and no experimental procedures were carried out on live animals. All research on tissue biopsies and blood samples was performed on specimens collected and submitted for clinical diagnostic purposes and the owners and breeders were informed and gave consent to study tissues for the welfare of the breed. Four male puppies, aged 8 to 13 weeks, were presented to the Small Animal Specialist Hospital, North Ryde, Australia (GC and ST) for evaluation of progressive muscle weakness. The affected puppies were from two different litters with the same dam and sire (Figure
1
). The sire of both litters had sired two other litters from different dams with no reported abnormalities in the offspring. DNA for genetic testing was collected from all four affected puppies and 10 unaffected first-degree relatives. Additional unaffected control samples were obtained from The Rottweiler Blood Bank, The University of Manchester, Manchester, UK, The Faculty of Veterinary Science, University of Sydney, Australia, and the Animal Specialist Hospital, North Ryde, Australia. None of the dogs in the unaffected control groups showed clinical signs of a neuromuscular disease.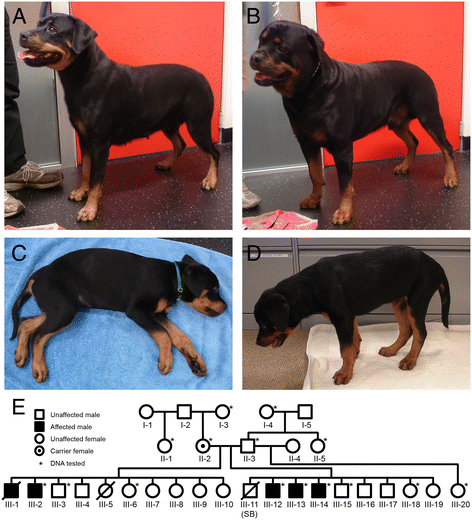 Histopathology, histochemistry, and immunofluorescence staining
Immediately after collection, muscle biopsy specimens were either wrapped in a saline-dampened gauze sponge and immediately refrigerated or immersion-fixed in 10% neutral buffered formalin. All specimens were shipped by a courier service under refrigeration to the Comparative Neuromuscular Laboratory, University of California San Diego. Immediately on receipt, unfixed specimens were flash-frozen in isopentane precooled in liquid nitrogen and stored at -80°C until further processing. Control muscles were all histologically normal specimens from the frozen tissue archive of the Shelton laboratory. Cryosections (8 μm) were cut and processed by a standard panel of histochemical stains and reactions [19]. Mouse monoclonal antibodies against slow (1:10, NCL-MHCs, Novocastra, Newcastle, England) and fast (1:10, NCL-MHCf, Novocastra) myosin heavy chains were used for fiber typing. Peroxidase substrate kits (DAB, Vector SK-4100, Vector Laboratories, Burlingame, CA, USA) and Vector red substrate kits (Vector, SK-5100) were used for color development according to package instructions.
Additional cryosections (8 μm) were cut and processed by indirect immunofluorescence. Sections were fixed in chilled acetone for 5 min, then incubated with a rabbit polyclonal antibody against the T-tubule marker, dihydropyridine receptor (DHPR), DHPRα1 (ab58552, 1:100 dilution, Abcam, Cambridge, UK) and a mouse monoclonal antibody against the SR marker, RyR1 (ab2827, 1:100 dilution; Abcam, Cambridge, UK). Rabbit polyclonal antibodies against LC3 N terminal (1:100, Abgent AP1802a, Abgent, San Diego, CA, USA) and ubiquitin (1:250, Dako 2015-02, Dako Denmark A/S, Glostrup, Denmark) were used as markers for autophagy. Details of further processing are as previously described [18].
Electron microscopy and quantification of triad structures
Following collection, muscles were immersed in ice cold 5% glutaraldehyde for 4 h, cut into 2 to 3 mm3 blocks, and fixed for an additional 2 h before post-fixation in 1% osmium tetroxide for 1 h. The samples were dehydrated in increasing ethanol concentrations and finally propylene oxide, and then embedded in araldite resin. Thick sections (1 μm) were prepared and examined by light microscopy after staining with toluidine blue-basic fuchsin. Ultra-thin sections (60 to 65 nm) were cut and collected on 100 or 200 square mesh grids, stained with uranyl acetate and lead citrate, and examined with a Zeiss 10 electron microscope. For quantification of triad structures in a representative affected dog and an age-matched control dog, longitudinal sections were evaluated at 9,900 magnification. A triad structure was defined as the typical T-tubule density and at least one adjacent cistern. The first 10 fields encountered with no artifact were photographed and the number of triads per field counted.
DNA extraction and MTM1 gene sequencing and analysis
Genomic DNA was isolated from muscle biopsies and EDTA anticoagulated peripheral blood by standard procedures. The 15 transcribed exons, plus 81 to 278 bp of flanking intronic sequences, of the canine MTM1 gene were polymerase chain reaction (PCR) amplified and Sanger sequenced using primer set 2 as described [18]. The canine MTM1 c.1151A > C variant was screened for in relatives of the proband and unaffected control populations using a Custom TaqMan® SNP Genotyping Assay (Life Technologies custom assay AH89RBZ, Thermo Fisher Scientific, Waltham, MA USA) on an ABI 7300 real time PCR platform (Thermo Fisher Scientific). Canine DNA and protein sequence variants are specified relative to reference sequences XM_850116.3 and XP_855209.1 where cDNA numbering is based on designating the first 'A' of the initiating methionine as position 1.
Variant interpretation and mutational modeling
Potential pathogenic consequences of the MTM1 c.1151A > C variant were assessed using SIFT (http://sift.jcvi.org/) [20], PolyPhen 2 v2.2.2 (http://genetics.bwh.harvard.edu/pph2/) [21], and SuSPect (http://www.sbg.bio.ic.ac.uk/suspect/) [22] and effects on protein structure were modeled using Phyre2 (http://www.sbg.bio.ic.ac.uk/phyre2/) [23] and visualized using Jmol, an open-source JAVA viewer for chemical structures in 3D (http://www.jmol.org/). Amino acid alignments were performed using the ClustalW algorithm in MacVector version 13.04 (MacVector Inc., Cary NC, USA), using the following reference sequences for comparison. For myotubularins: human (Homo sapiens), NP_000243.1; monkey (Macaca mulatta), NP_001248647; dog (Canis familiaris), XP_005641991; cow (Bos taurus), NP_001193354; chicken (Gallus gallus), XP_004940916; xenopus (Xenopus tropicalis), AAH94184.1; zebra fish (Danio rerio), NP_001032773.1; drosophila (Drosophila melanogaster), AAF52327.1. For myotubularin-related proteins: MTM1, NP_000243.1; MTMR1, NP_003819.1; MTMR2, Q13614.4; MTMR3, CAG30411.1; MTMR4, NP_004678.3; MTMR5, O95248.3; MTMR6, NP_004676.3; MTMR7, EAW63816.1; MTMR8, Q96EF0.1; MTMR9, Q96QG7.1; MTMR10, Q9NXD2.3; MTMR11, A4FU01.2; MTMR12, Q9C0I1.2; MTMR13, Q86WG5.1.
Discussion
Here we report a second genetically proven canine homolog of XLMTM due to mutation of the MTM1 gene. Both the previously reported Labrador retriever mutation, MTM1 p.(N155K), and this Rottweiler mutation, MTM1 p.(Q384P), represent missense changes replacing one amino acid with another. p.(N155K) altered a residue in exon 7, located in the linker region between the PH-GRAM and the phosphatase domains and was associated with reduced levels of myotubularin protein. Unfortunately, due to issues of cross-reactivity (possibly with MTMR1 or MTMR2) with available antibodies, we were unable to reliably evaluate myotubularin localization or levels in the affected Rottweiler's muscles, although western blotting suggested that myotubularin levels were similar in affected and wild type dogs and the staining pattern co-localized, as expected, in necklace fibers with that of the RyR1 (data not shown). Nevertheless, the p.(Q384P) mutation is predicted to dramatically alter, and possibly abolish, phosphatase activity so we posit that this leads to production of a stable, but catalytically inactive protein. This exact residue has not been reported mutated in human patients with XLMTM, however, missense mutations of S376 and G378 (both within the P-loop), and S387, A389, and L391 (all within the adjacent α-10 helix), have been reported. Of 13 patients in the MTM1 Leiden Open Variation database [27] with missense mutation of one of these five residues, 10 were reported to have a severe phenotype similar to that seen in patients with MTM1 null mutations, while three were of unknown severity.
Although a proven canine MTM1 null mutation has not yet been reported, it is worth noting that both the Labrador retrievers and Rottweilers exhibited similar severe clinical phenotypes, with onset of a generalized, progressive, and fatal myopathy in the second to third month of life. Breeding of the Labrador MTM1 p.(N155K) mutation onto a Beagle genetic background (that is, 'Labbes') has had no discernable impact on severity of the phenotype or natural history of the disease [28], suggesting that clinical expression of these mutations may be largely independent of breed.
Histopathology in the CNMs, including XLMTM, may be similar and include excessive variability in myofiber size with numerous hypotrophic fibers, central nuclei in myofibers reminiscent of myotubes, and the presence of 'necklace fibers'. The necklace fibers, which are indicative of XLMTM, may appear as a ring of increased staining around the periphery of H&E stained myofibers, but are most apparent upon reaction with oxidative stains [29]. The necklaces are positive for SDH or COX (Figure 2C, D) and stain positively for components of the triad such as DHPR, and RyR1 (Figure 3A). These, and other abnormal staining intensities using antibodies against DHPR and RyR1, are typically found in XLMTM in the Labrador retrievers [18] and the Rottweilers presented with similar findings. However, a striking finding unique to the Rottweiler dogs was the presence of intensely staining myofibers with the autophagy markers LC3 and ubiquitin (Figure 3B) and this correlated with the presence of abundant autophagosomes and autophagic vacuoles upon ultrastructural examination (Figure 4E,F).
Autophagic vacuoles are not found in normal muscle fibers but are prominent in some muscle diseases where there is a deficiency of lysosomal enzymes as in acid maltase deficiency and Danon disease [30], impaired degradation of lysosomal contents due to an increase in lysosomal pH as in chloroquine myopathy [31], or when there is inhibition of phospholipid catabolism as occurs in vincristine myopathy [32]. Phosphatidylinositol 3-phosphate and phosphatidylinositol 3,5-bisphosphate, the substrates of myotubularins, are known to play important roles in vesicular trafficking and autophagy, and in recent years several myotubularin related proteins have been implicated as negative regulators of autophagy [33-37]. Although prominent upregulation of markers of autophagy has not yet been described as a general feature of XLMTM in humans, recent studies on two myotubularin-deficient mouse models have revealed significant abnormalities of the autophagy-lysosomal pathway [38,39]. Fetalvero et al. identified a profound increase of ubiquitin aggregates, LC3 levels, and activation of mTORC1 signaling associated with defective autophagy. Al-Qusairi et al. have shown the autophagic pathway is hyperactivated, however, late stages involving fusion of autophagosomes to lysosomes are blocked, leading to abnormal accumulations of autophagosomes similar to those seen in the affected Rottweiler's muscles. Whether the particularly prominent accumulations in these dogs represents a general phenomenon, or perhaps reflects the effects of a genetic variant affecting some autophagy-related protein or other breed-specific finding, remains to be determined.
The clinical presentation of young dogs with either of the autosomal forms of CNM or of XLMTM is myopathic in nature (generalized weakness, muscle atrophy, short-strided gait) but these general signs of muscle disease are largely non-specific and typically cannot be used to diagnose the specific condition. If the serum CK activity is markedly elevated, a dystrophy rather than a congenital myopathy would be most likely. In either case, interpretation of muscle biopsies processed at a laboratory experienced in the diagnosis of neuromuscular diseases is of utmost importance as the congenital myopathies are defined by the presence of specific anatomic changes in frozen muscle biopsy sections [19]. Identification of an excessive variability in myofiber size, numerous myofibers containing centrally located nuclei resembling myotubes and the identification of 'necklace fibers' in the absence of dystrophic changes should alert the muscle pathologist to the diagnosis of either autosomal CNM or XLMTM. Then, differences in the ages of onset and rates of progression may provide clinical clues to allow differentiation of XLMTM from the known autosomal CNMs and may be used to guide the prioritization of genetic testing. XLMTM is restricted to males, and affected puppies present with a severe progressive weakness typically beginning in the first 2 months of life and requiring euthanasia by 4 to 5 months of age. In contrast, both Labrador retrievers with the PTPLA mutation [13] and Great Danes with BIN1 mutation [14] have similar clinical phenotypes but tend to present at older ages and often survive well past 1 year of age [40,41]. Thus, the diagnosis cannot be made by physical examination alone but requires combined clinical and histopathological evaluations leading to selection of the proper genetic test to confirm the etiology.
The MTM1 p.(Q384P) mutation appears to be restricted to this one kindred of Australian Rottweilers. Enquiries as to the history of any similar abnormalities in the dam's and sire's lines have not revealed any additional cases of congenital myopathy. Extensive pedigrees reveal ancestors including US, UK, German, and Swedish bred dogs. The grand dam on the dam side of the affected litters (I-3) was imported from Germany and has not produced any puppies with known abnormalities. DNA testing of the dam (II-2) of the two affected litters revealed that she was a heterozygous carrier for the MTM1 p.(Q384P) mutation, yet testing of her dam's (I-3) DNA demonstrated that she was not a carrier for the mutation. Given that the dam's sire (I-2) was unaffected and able to breed, it is most likely that the MTM1 mutation arose as a de novo event, either in the germ line of either grandparent I-2 or I-3, or in the dam II-2 during her embryonic development. Of the litter siblings of affected dogs, the males available for follow-up have not shown any abnormalities. The female littermates have either been neutered or not produced any known offspring. Nevertheless, any remaining unneutered female littermates in the affected litters are at 50% risk to carry the mutation and should either be neutered, or at least tested for the mutation. Regardless, unlike the situation with regard to the autosomal recessive PTPLA mutation that is distributed widely among geographically separated Labrador retrievers [42], it is highly unlikely that this particular MTM1 mutation would be found in other Rottweilers, apart from direct lineal descendants of this single kindred.
Conclusions
A progressive, non-dystrophic myopathy in male puppies from two litters of Rottweilers born in Australia represents the second genetically confirmed instance of XLMTM in dogs. The pathogenic mutation, MTM1 p.(Q384P), lies three amino acids distal to the P-loop at the phosphatase active site and likely alters its structure through disruption of an adjacent alpha helix. Affected puppies have a similar clinical presentation and progressive course as previously reported Labrador retrievers with MTM1 p.(N155K), suggesting that both models are representative of a variety of MTM1 mutations as seen in human patients. Possible or probable XLMTM in dogs can be predicted for litters containing exclusively affected males with a skeletal myopathy of early onset and rapidly fatal course, together with characteristic skeletal muscle pathological findings, and should lead to diagnostic sequencing of the entire MTM1 gene as this condition may be due to multiple independent mutational events regardless of breed or geographic origin.
Abbreviations
CK:

Creatine kinase
CNM:

Centronuclear myopathy
COX:

Cytochrome C oxidase
DHPR:

Dihydropyridine receptor
PCR:

Polymerase chain reaction
RyR1:

Ryanodine receptor 1
SDH:

Succinate dehydrogenase
SR:

Sarcoplasmic reticulum
XLMTM:

X-linked myotubular myopathy
Declarations
Acknowledgements
The authors wish to thank the breeders and owners of the affected and kindred dogs for bringing them for care and attention and for information on their pedigrees and also Dr Blair Kurtz, Dr Mark Weingarth, and Dr Aine Seavers for their help in referring affected puppies to SASH (BK) and the collection of blood samples from two kindred dogs. Thanks also to Dr Lorna Kennedy for making control DNA samples available through the Rottweiler Blood Bank at The University of Manchester. This work was supported by National Institutes of Health Grant R01 AR044345, the Muscular Dystrophy Association (USA) grant MDA201302, the Joshua Frase Foundation, and Where There's A Will There's A Cure Foundation for Myotubular Myopathy.
Authors' Affiliations
(1)
Department of Pathology, School of Medicine, University of California San Diego, La Jolla, USA
(2)
Division of Genetics and Program in Genomics, The Manton Center for Orphan Disease Research, Boston Children's Hospital and Harvard Medical School, Boston, USA
(3)
Small Animal Specialist Hospital, North Ryde, Australia
(4)
Faculty of Veterinary Science, The University of Sydney, Sydney, Australia
Copyright
© Shelton et al.; licensee BioMed Central. 2015
This is an Open Access article distributed under the terms of the Creative Commons Attribution License (http://creativecommons.org/licenses/by/4.0), which permits unrestricted use, distribution, and reproduction in any medium, provided the original work is properly credited. The Creative Commons Public Domain Dedication waiver (http://creativecommons.org/publicdomain/zero/1.0/) applies to the data made available in this article, unless otherwise stated.