The golden retriever model of Duchenne muscular dystrophy
Received: 4 February 2017
Accepted: 19 April 2017
Published: 19 May 2017
Abstract
Duchenne muscular dystrophy (DMD) is an X-linked disease caused by mutations in the DMD gene and loss of the protein dystrophin. The absence of dystrophin leads to myofiber membrane fragility and necrosis, with eventual muscle atrophy and contractures. Affected boys typically die in their second or third decade due to either respiratory failure or cardiomyopathy. Despite extensive attempts to develop definitive therapies for DMD, the standard of care remains prednisone, which has only palliative benefits. Animal models, mainly the mdx mouse and golden retriever muscular dystrophy (GRMD) dog, have played a key role in studies of DMD pathogenesis and treatment development. Because the GRMD clinical syndrome is more severe than in mice, better aligning with the progressive course of DMD, canine studies may translate better to humans. The original founder dog for all GRMD colonies worldwide was identified in the early 1980s before the discovery of the DMD gene and dystrophin. Accordingly, analogies to DMD were initially drawn based on similar clinical features, ranging from the X-linked pattern of inheritance to overlapping histopathologic lesions. Confirmation of genetic homology between DMD and GRMD came with identification of the underlying GRMD mutation, a single nucleotide change that leads to exon skipping and an out-of-frame DMD transcript. GRMD colonies have subsequently been established to conduct pathogenetic and preclinical treatment studies. Simultaneous with the onset of GRMD treatment trials, phenotypic biomarkers were developed, allowing definitive characterization of treatment effect. Importantly, GRMD studies have not always substantiated findings from mdx mice and have sometimes identified serious treatment side effects. While the GRMD model may be more clinically relevant than the mdx mouse, usage has been limited by practical considerations related to expense and the number of dogs available. This further complicates ongoing broader concerns about the poor rate of translation of animal model preclinical studies to humans with analogous diseases. Accordingly, in performing GRMD trials, special attention must be paid to experimental design to align with the approach used in DMD clinical trials. This review provides context for the GRMD model, beginning with its original description and extending to its use in preclinical trials.
Keywords
Duchenne muscular dystrophy (DMD)Golden retriever muscular dystrophy (GRMD)Animal modelsPreclinical studies
Background
Duchenne muscular dystrophy (DMD) is a devastating X-linked inherited degenerative muscle disease [1] affecting ~1 in 4000–6000 boys [2]. Mutations in the DMD gene limit production of the protein, dystrophin, resulting in loss of myofiber membrane integrity and repeated cycles of necrosis and regeneration [1]. Muscle is gradually replaced with fibrous connective tissue and fat, leading to weakness and debilitating contractures. Eventual involvement of respiratory muscles and the heart causes cardiopulmonary failure and death in the second to third decade of life. Although the molecular basis for DMD was defined 30 years ago, glucocorticoids and supportive therapy remain the standard of care.
Prior to the discovery of the DMD gene and dystrophin protein in the 1980s, there were no definitive genetic animal models for DMD. Various inherited and experimental primary myopathies in animals, most notably in mice, chickens, and hamsters, were studied in an effort to gain insight into the pathogenesis and potential treatment of the human dystrophies [3]. The most obvious discrepancy in these models related to their autosomal versus X-linked pattern of inheritance. While these animal studies provided useful insight on disease pathogenesis, their overall value was questioned [4].
Subsequently, spontaneous genetically homologous dystrophinopathies have been identified in several mammalian species, including mice and dogs. Because the phenotype of dystrophic dogs more closely mirrors that of DMD, pathogenetic and preclinical treatment studies may better translate to humans. Most canine studies have been conducted in the golden retriever muscular dystrophy (GRMD) model, which occurs due to a spontaneous splice site mutation in the DMD gene. In this review, fundamental early observations that hinted at the membranal nature of both DMD and GRMD are covered first, followed by a discussion of molecular studies that identified the DMD gene and dystrophin protein. Challenges facing physicians and scientists in translating therapies from animals to humans are then discussed, with emphasis on the importance of first and foremost establishing safety. The review concludes with an overview of the role of animal models and, in particular, GRMD in treatment development.
Disease pathogenesis: the membrane theory
Well before the molecular age allowed identification of disease-causing genes, physicians and scientists relied on clinical clues and their intuition to infer disease pathogenesis. Much early attention focused on the so-called membrane theory of DMD, as stated by Rowland, "The functional genetic fault of DMD affects an enzyme or structural protein which is decreased in amount or rendered functionally abnormal because of an altered amino acid sequence. In either case, the altered protein results in abnormal composition and altered function of muscle cell surface membranes" [
4
]. The membrane theory originated with the observation that enzymes, such as aldolase and phosphorylase, were decreased in muscle [
5
] and elevated in serum [
6
,
7
]. This was presumed to occur because of damage to the myofiber membrane, the sarcolemma. In fact, elevations of creatine phosphokinase (CPK), now typically shortened to creatine kinase (CK), had become particularly useful in the diagnosis of DMD [
6
]. Additional support for the membrane theory came from ultrastructural studies showing defects in the sarcolemma (Fig.
1
) that purportedly allowed enzyme leakage [
8
–
11
]. Concomitant influx of calcium was hypothesized to lead to fiber hypercontraction or protease activation, each of which could contribute to the characteristic myofiber (hyaline) necrosis seen in DMD. In support of this mechanistic disease association, the membrane lesions sometimes overlay wedge-shaped areas of focal necrosis, so called delta lesions [
10
] (see Fig.
4
).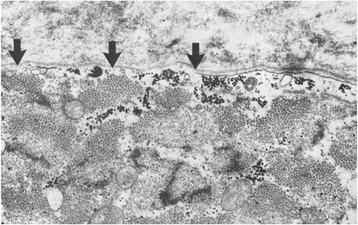 In addition to enzyme changes and sarcolemma lesions, electromyography (EMG) provided a third less discussed marker of potential membrane involvement. As with other myopathies, DMD is characterized by low amplitude, short-duration motor unit potentials, with associated spontaneous activity ranging from fibrillation potentials to complex repetitive discharges (CRDs) [
12
–
15
]. The occurrence of CRDs is of particular interest, given their predominance on EMG studies in canine dystrophinopathies (see below). Previously called pseudomyotonia or bizarre high-frequency discharges, CRDs are high frequency spontaneous potentials that begin and end abruptly [
16
,
17
] (Fig.
2
). This pattern contrasts with true myotonic discharges that wax and wane, creating a characteristic "dive bomber" sound [
17
]. While spontaneous activity on EMG may occur with either neuropathies or myopathies, CRDs occur preferentially in myopathies [
18
] and point to myofiber membrane involvement [
19
]. Buchtral and Rosenfalck reported
pseudomyotonic bursts
in human progressive muscular dystrophy patients in their 1963 monograph [
12
] (Fig.
2
). Others have shown that CRDs occur more often than additional forms of pathologic spontaneous activity in DMD versus the less clinically severe dystrophinopathy, Becker muscular dystrophy (BMD) (see below), and even more so, when compared to the other dystrophies [
14
,
15
]. In general, CRDs are thought to occur through ephaptic transmission of action potentials between muscle fibers, although the involved mechanisms are not well understood [
17
,
20
]. In principle, membrane lesions that limit chloride or enhance sodium conductance into the myofiber could shift the resting membrane potential towards the threshold for depolarization, with associated repetitive electrical discharges [
21
]. Consistent with this observation, mutations in chloride (CLCN1) and sodium (SCN4A) skeletal muscle channel genes have been incriminated in the myotonias [
16
]. Moreover, dysregulation of Na
V
1.4, the protein product of SCN4A, leads to increased intracellular sodium and cell death in mdx mice [
22
], which also express CRDs [
23
,
24
].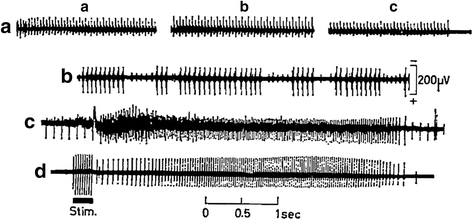 The DMD gene, dystrophin protein, and dystrophin-glycoprotein complex
The mode of inheritance for DMD was long suspected to be X-linked because of the disease's predominance in males. While an X-linked pattern was ultimately corroborated by pedigree studies [25, 26], this interpretation was clouded by the rare occurrence of a similar clinical syndrome in girls [27]. Some such cases were thought to occur due to disproportionate inactivation of the normal X chromosome in female DMD carriers, as was subsequently well documented [28]. Others were associated with autosomal translocations within the Xp21 region of the short arm of the X-chromosome, pointing to this area as a likely site of the DMD gene [29]. This putative site was confirmed when restriction fragment length polymorphisms (RFLPs; markers) cleaved from DNA were shown to flank the Xp21 locus [30]. An analogous association was made with the less severe clinical syndrome of BMD [31]. Following closely on this work, Kunkel et al. capitalized on a DMD patient with a cytogenetically visible Xp21 deletion that also included genes for three other diseases [32, 33]. Several DNA fragments absent from the patient were cloned to provide linkage markers for the DMD locus. In a follow-up multicenter study, DNA from over a thousand DMD and BMD patients was probed using these clones, with 6.5% showing deletions at the DXS21 locus [34]. Using the DXS21 locus as the starting point, chromosomal walking was employed to map and clone the entire 14 kb DMD gene transcript [35]. Dystrophin, the 425 kd protein product of the DMD gene, was characterized and found to be absent in both DMD patients and the mdx mouse [36]. Tying matters together further, the molecular basis for DMD and BMD was shown to depend on whether the underlying mutation maintained (BMD; in frame) or disrupted (DMD; out of frame) the three nucleotide (codon) reading frame for amino acids [37]. Subsequent studies have established that deletions (60%) and duplications (5%) account for ~65% of DMD and BMD mutations and that they tend to concentrate in two so-called hot spot areas near the N-terminus (exons 3-7) and within the central rod domain (exons 45-53) [38–41]. Definition of the specific extent and location of the mutation has become critical with the advent of antisense oligonucleotide therapies intended to reestablish the reading frame (see below in the context of canine DMD gene mutations) [42]. In tandem with early studies of the DMD gene, Campbell and Kahl published work that led to a series of comprehensive studies linking dystrophin with additional proteins and sugar moieties to form the dystrophin-glycoprotein complex [43]. A number of other muscular dystrophies subsequently have been causally associated with mutations in genes coding for structural proteins and glycosylating enzymes within this complex [44, 45].
The search for a cure
The approach to DMD treatment can be divided into two periods. The first predated identification of the
DMD
gene and dystrophin protein when management was largely symptomatic or employed drugs directed at disease mechanisms inferred from pathologic changes. Extending from this period, the second phase has focused on directed genetic and cellular approaches that offer the potential for cure. Soon after the discovery of the
DMD
gene and dystrophin protein, the "
Journal of Child Neurology
" published three perspectives from Jan Witkowski [
46
], Victor Dubowitz [
47
], and Jerry Lewis [
48
], the first two commenting as a scientist and clinician and Mr. Lewis as a longstanding champion for the Muscular Dystrophy Association and "Jerry's Kids." Key comments from each of their commentaries are reproduced here:
This new knowledge has tremendous implications for the physician caring for DMD patients and their families, and it has led to new methods for diagnosis, prognosis, and genetic counseling. In the not-too-distant future, this research may lead to therapies for DMD. Jan Witkowski

Although it may be exciting to speculate on the possibility of gene therapy in muscular dystrophy, it seems extremely unlikely that this could become a reality in the foreseeable future. Victor Dubowitz

I don't pretend to understand the language of science or comprehend the many complex research findings discussed in these articles. But there's a basic, underlying message I do understand – a message of excitement that we've scored long-awaited victories against a disease that cripples and kills thousands of children, and of hope that these victories will soon lead us to a cure or a treatment. Jerry Lewis
Reflecting on these comments in hindsight garnered over 30 years, each appears to have gotten things just about right. As Dr. Witkowski predicted, the discovery of the DMD gene and dystrophin protein has advanced the fields of diagnosis and genetic counseling and set the stage for more directed DMD treatments, to include gene and cell-based approaches. And, who could argue with Jerry Lewis, who pointed to the tremendous energy that these discoveries unleashed. But, Dr. Dubowitz's cautionary note was also prophetic. Progress on genetic therapies has been frustratingly slow, with a number of approaches failing or being delayed by unforeseen complications. The fact that glucocorticoids remain the standard of care for DMD provides stark evidence of the challenges of implementing genetic and cellular therapies [49, 50].
The long and winding road to drug approval
The road to drug approval is often difficult, with less than 20% of Phase II trials being successful, typically due to either a lack of efficacy or safety concerns [51, 52]. Failure to demonstrate efficacy is caused, in part, by challenges in accruing sufficient patients to achieve necessary power [53]. This issue is exaggerated with rare (orphaned) diseases such as DMD. The Orphan Drug Act of 1983 provided various Food and Drug Administration (FDA) incentives, including expedited review and delayed approval of competing drugs, to facilitate development of therapeutics [54]. Motivated by these incentives, there has been a marked uptick in approaches directed at Duchenne patients. A total of 206 studies of DMD diagnostic tests and treatment trials in various stages of initial enrollment to termination are currently listed on the NIH Clinical Trials.gov website (https://clinicaltrials.gov/ct2/results?term=Duchenne+Muscular+Dystrophy&pg=2). Results of these new treatments have been mixed [49]. On a promising note, ataluren, the first drug approved to specifically target the underlying DMD gene mutation, showed potential benefit in an initial phase 2b study [55, 56] and patients are now being enrolled in a larger phase 3-trial (https://clinicaltrials.gov/ct2/show/NCT02090959?term=ataluren&rank=1). However, other recent clinical trials, including the failure of phophodiester-5 inhibitors to translate to Duchenne and Becker patients [57, 58] and ongoing questions surrounding efficacy of the exon-skipping strategies [59, 60], have illustrated the complexities surrounding treatment development.
Doctor, do no harm
In treating patients, physicians have been guided by a set of ethical principles that date to ancient Greece and are embodied in the Hippocratic oath. Indeed, some form of this oath is taken by newly graduating physicians and should guide all who practice clinical medicine. While not specifically included in the original oath, newer versions typically include language to the effect of, "first, do no harm." Safety also lies at the heart of the FDA's approval process for an investigational new drug (IND), as detailed in FDA Code of Federal Regulations (CFR) Title 21, Part 312 (accessdata.fda.gov/scripts/cdrh/cfdocs/cfcfr/CFRSearch.cfm?CFRPart = 312), beginning with preclinical testing in animals and the subsequent phased process for human clinical trials. Smaller populations of human volunteers are first evaluated to establish safety (Phase 1) before larger clinical groups are tested to determine efficacy (Phases 2-4).
Preclinical animal testing has played a critical role in demonstrating drug safety, extending from FDA policies formulated over the past 50 years to the IND protocol used today. Acute, subacute, and chronic dosing studies are required in a rodent and second (often dog) species [61, 62]. For sake of pediatric populations, emphasis has been placed on the use of analogous juvenile animals to better predict potential developmental side effects (see "GRMD in preclinical trials: experimental design" section below) [63]. The FDA has also recently released rigorous guidelines for gene and cell-based therapies [64, 65]. Germane to this review, these guidelines emphasize choosing animal models likely to demonstrate a biological response, such as immunity, that would be expected in humans. Moreover, disease models were recommended over normal animals because of their greater likelihood to predict the risk-benefit ratio of the investigational product.
The golden retriever model
Conclusions
Duchenne muscular dystrophy (DMD) is a devastating X-linked disease for which ameliorative treatments are desperately needed. As with other inherited conditions, genetically homologous animal models are critical for exploring DMD disease pathogenesis and the efficacy and side effects of potential therapies. Until the DMD gene and dystrophin protein were identified in the 1980s, putative animal models were chosen based on similarities in the pattern of inheritance and common phenotypic features. Golden retriever dogs with an apparent X-linked degenerative myopathy, subsequently termed golden retriever muscular dystrophy (GRMD), were recognized in the 1970s and 1980s and shown to have phenotypic features consistent with those of DMD. These features, including elevated serum enzymes, sarcolemmal defects, and CRDs on EMG, were in keeping with the membrane theory of DMD disease pathogenesis. One of these dogs, Rusty, identified at the University of Georgia in 1981, was the founder for initial colonies at Cornell University and NCSU. Subsequent studies confirmed genetic homology with DMD, and multiple additional colonies were established in the USA and around the world. In a similar time frame, an additional naturally occurring DMD genetic homologue, the mdx mouse, was identified and characterized. Extending from these studies in the 1980s, the DMD research community has had these two well-defined genetically homologous animal models to use in tandem for therapy development. However, neither of these models is completely analogous, with the mdx mouse displaying a mild phenotype and the more severely affected GRMD dog often stabilizing after 6 months of age. Advantages of the mdx mouse relate to its consistent phenotype and relatively modest expense, allowing multiple variables to be tested through reasonably powered studies. On the other hand, the mouse's small size may limit assessment of scalable variables such as cell migration or drug diffusion. Perhaps even more importantly, preclinical studies in mdx mice have generally not identified complications, most notably immunologic side effects of gene and cell therapies. These advantages and limitations are essentially reversed for dystrophic dogs. The expense of animal housing and required facilities limits the number of dogs that can be studied. Accordingly, multiple variables, as with the use of immunosuppression, cannot always be tested. Phenotypic variation further reduces the power that can be achieved with GRMD trials. On the other hand, the dog's larger size and outbred nature allows for better modeling of scalable variables such as cell diffusion and the immune response to biologics. A general paradigm has evolved, whereby initial testing is done in mdx mice and, assuming positive results, follow-up studies are completed in dystrophic dogs. As with preclinical studies more generally, findings from these animal models have not consistently translated to DMD patients. Examples of failed translation include pharmacologic approaches, the myoblast transplantation studies of the 1990s, and the current uncertainty surrounding exon-skipping strategies. A major factor in this lack of translation has been termed the "two cultures phenomenon," whereby experimental design in animal studies has not consistently mirrored the rigor of human clinical trials, with fundamental tenets such as appropriate powering of outcome parameters and blinding not being sufficiently considered. To address this ongoing problem, certain basic standards should be adopted. Care should be taken in planning the experimental design to ensure that sample sizes are sufficiently powered to detect treatment effects with the outcome parameters used; animals should be randomly assigned to treatment and control groups, and investigators should be blinded to which animals are treated; statistical methods used in data analysis should be carefully considered and reported; endpoints (biomarkers) should largely follow those to be used in future DMD trials and be studied in a natural history setting to allow appropriate powering in advance of the preclinical trial; results should be validated in another laboratory; and, especially for treatments such as cell and gene therapies that carry substantial risk, treatment efficacy and complications should be determined in both the mdx mouse and GRMD dog. In this last instance, the role of animal models in predicting side effects has often been overlooked or deemphasized. Following on the premise that physicians should first and foremost "do no harm," preclinical studies offer an opportunity to identify potential risks that can be corrected prior to human trials. The GRMD model has played a particularly important role in characterizing complications of pharmacologic intervention and immunologic reactions to cell and gene therapies.
Abbreviations
6MWT:

6-minute walk test
AAV:

Adeno-associated virus
BMD:

Becker muscular dystrophy
CK:

Creatine kinase
CPK:

Creatine phosphokinase
CRDs:

Complex repetitive discharges
CXMD:

Canine X-linked muscular dystrophy
CXMDJ :

Canine X-linked muscular dystrophy in Japan
DMD:

Duchenne muscular dystrophy
EMG:

Electromyography
FDA:

Food and Drug Administration
GRippets :

Cross bred myostatin-heterozygote and GRMD dogs
GRMD:

Golden retriever muscular dystrophy
GWAS:

Genome wide association study
IND:

Investigational new drug
LTBP4 :

Latent transforming growth factor β binding protein 4
MHC:

Major histocompatibility complex
mRNA:

Messenger ribonucleic acid
NBD:

Nemo Binding Domain peptide
NF-κB:

Nuclear factor kappa-light-chain-enhancer of activated B cells
RFLPs:

Restriction fragment length polymorphisms
SPPI :

Phosphoprotein 1 (osteopontin)
TTJ:

Tibiotarsal joint
UPS:

Ubiquitin-proteasome system
Declarations
Acknowledgements
The author acknowledges the roles that dogs with golden retriever muscular dystrophy and many collaborators, graduate students, and technicians have played in cited studies and, in so doing, advanced our understanding of the devastating disease, Duchenne muscular dystrophy, and genetically homologus conditions in dogs.
Funding
Funding for studies completed in the author's laboratory and cited in this review came from multiple sources and was generally acknowledged in prior papers.
Availability of data and materials
Data compiled by the author and cited in this paper are generally available for review.
Competing interests
The author is a paid consultant for Solid Biosciences, which is developing a micro-dystrophin based treatment that is being tested in GRMD dogs.
Consent for publication
Not applicable.
Ethics approval and consent to participate
All studies cited by the author in this paper were completed according to principles outlined in the National Research Council Guide for the Care and Use of Laboratory Animals and with approval of the particular university's Institutional Animal Care and Use Committee.
Publisher's Note
Springer Nature remains neutral with regard to jurisdictional claims in published maps and institutional affiliations.
Open AccessThis article is distributed under the terms of the Creative Commons Attribution 4.0 International License (http://creativecommons.org/licenses/by/4.0/), which permits unrestricted use, distribution, and reproduction in any medium, provided you give appropriate credit to the original author(s) and the source, provide a link to the Creative Commons license, and indicate if changes were made. The Creative Commons Public Domain Dedication waiver (http://creativecommons.org/publicdomain/zero/1.0/) applies to the data made available in this article, unless otherwise stated.
Authors' Affiliations
(1)
Department of Veterinary Integrative Biosciences, College of Veterinary Medicine and Biomedical Sciences, Texas A&M University, College Station, USA